Be In Pole Position at Le Mans Moto
Date: 10 Apr 2018 00:00 Source: Brittany Ferries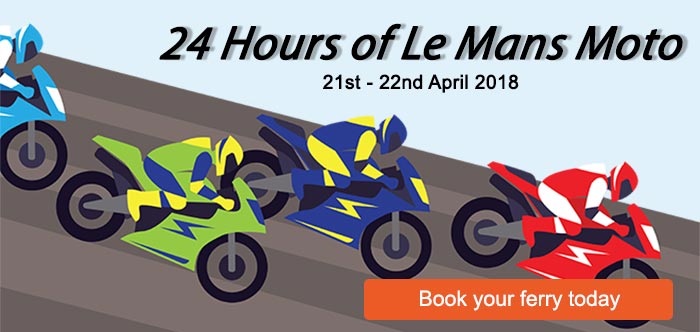 Excitement is revving up for the '24 Hours of Le Mans Moto' race on the 21st-22nd April 2018. An unmissable event held each year in northwest France, we've highlighted the best ferry routes to get you to the city of Le Mans and thrown in some great tips to ensure you get the best experience.

Situated halfway between Paris and Nantes, Le Mans is easily reachable from a number of French ports. While Dover to Calais is the quickest route across the English Channel, the ports of Le Havre and Caen are in fact much closer to Le Mans, allowing a shorter travel time once in France with regular departures from Portsmouth.

The port of St Malo, situated close to the Channel Islands, is equally as close to the racetrack. This means if you're based further west in the UK, near Plymouth or Bournemouth, it may be easier to sail there.

Finally, given the popularity of the race, it's best to book your tickets as early possible to get the best price, but the most vital tip would be to arrive at the race before 9am to avoid the infamously long queues.

Book your ferry to France as early as possible to get the best prices.

Date: 15 May 2019 Source: Direct Ferries
Planning on travelling to the Rugby World cup this year? As the first ever world cup to be held in Asia, there is no doubt that this is going to be a tournament to remember, and no one will want to miss out! Here at Direct Ferries, we can help you make your journey throughout Japan as easy and hassle-free as possible, especially if you are planning on attending more than one game!
Date: 04 September 2018 Source: DFDS Seaways Mini Cruise
Treat yourself to a DFDS mini cruise to Amsterdam! Enjoy a nice get away to Holland, which includes 2 nights onboard in an ensuite cabin, coach transfers and up to 5 hours ashore exploring Amsterdam streets, canals, museums, markets, parks or cheese boutiques!