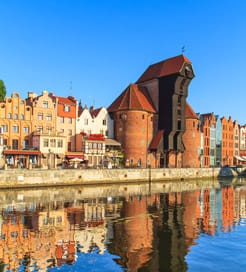 Compare ferries from Poland to Sweden
There are 4 ferry routes operating between Poland and Sweden offering you combined total of 63 sailings per week. Stena Line operates 1 route, Gdynia to Karlskrona which runs 14 times weekly. TT Line operates 1 route, Swinoujscie to Trelleborg which runs 9 times weekly. Polferries operates 2 routes, Swinoujscie to Ystad runs 19 times per week & Gdansk to Nynashamn about 7 times weekly. Unity Line operates 1 route, Swinoujscie to Ystad which runs 14 times weekly.

As the frequency and duration of crossings on some routes varies we would advise that you do a live search for crossings from Poland to Sweden to get the most up to date information.
Ferries from Poland to Sweden
About Poland:
Poland is a Central European country with a northern coastline approximately 440 kilometres long on the Baltic Sea, sharing its border with 7 different countries.

Visitors come to Poland's shores to discover its rich cultural heritage including the numerous museums telling stories of the nation's dealings with World War II and the Soviet Union. Stunning historic sites and gorgeous landscapes come in abundance, too, most notably the medieval castles and red-brick fortresses dotted throughout the country.

The capital, Warsaw offers a mix of both the historical and the modern, with plenty of upmarket restaurants, bars and contemporary architecture to be found alongside picturesque Gothic buildings.

Poland has a few ports along its short coast offering frequent ferry routes across the Baltic Sea. The sailings are operated by a wide choice of ferry companies, which makes Poland a good departure point for Scandinavia.
About Sweden:
Sweden is a Scandinavian country in Northern Europe, sharing a lengthy western border with Norway and a shorter north-eastern border with Finland.

One of the European leaders for quality of life, Sweden is a beautiful nation in all aspects. The diversity of magical landscapes is one of its greatest assets, stretching from the sparse and snow-filled north, inhabited by the indigenous Sami people, to the lake-speckled central region and the high-energy, fashion-inspired capital city of Stockholm in the south.

A long Viking history has left its mark; ancient rune stones and huge burial mounds can be found throughout the country, all with their own fascinating story to tell, while the medieval cities and coastal castles add a further layer of mystery.

Sailing to Sweden by ferry is a common choice for visitors, thanks to the huge number of routes from various countries in northern Europe and Scandinavia, all operated by a wide choice of excellent ferry companies.