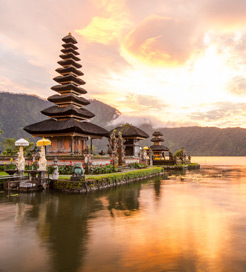 Compare ferries from Indonesia to Bali
There is no shortage of options to choose from when it comes to selecting a ferry from Indonesia to Bali. There are 12 ferry companies with a combined offering of 15 ferry routes connecting Nusa Lembongan (Mushroom Beach) to Sanur, Nusa Lembongan (Jungut Batu Beach) to Sanur, Serangan & Padang Bai, Nusa Lembongan (Yellow Bridge) to Serangan & Padang Bai, Nusa Penida to Sanur & Padang Bai, Nusa Penida (Buyuk Harbour) to Serangan & Sanur, Nusa Penida (Toyapakeh) to Padang Bai & Serangan, Nusa Penida (Kutampi Beach) to Sanur, Nusa Lembongan (Telatak Harbor) to Serangan & Nusa Ceningan to Sanur.

The fastest route between Indonesia and Bali is Sanur with a crossing duration of around 0 hour 30 minute. With so many routes on offer we make it simple by comparing all similar routes in one search so you can quickly find what you are looking for.
Ferries from Indonesia to Bali
About Indonesia:
Indonesia is the world's 4th most populous country situated in Southeast Asia, comprising over 17,000 islands stretched along the equator, of which only 8,000 are inhabited.

As you would expect from the largest archipelago on the planet, Indonesia has an incredibly diverse landscape and culture, with over 300 languages spoken, the world's 2nd largest tropical forest, 130 active volcanoes and 1,000's of spectacular temples spread across the islands.

Most tourists flock to Bali, the hub for luxury resorts, stunning beaches and excellent surf breaks. The capital, Jakarta has great shopping spots and the largest mosque in Southeast Asia, whilst the Gili Islands offer a buzzing nightlife tailored for backpackers.

Given the sheer quantity of islands in Indonesia, travelling by ferry is the best way to get around. It has an extensive ferry network offering domestic routes to and from some of the most popular destinations in the country, as well as international crossings to Singapore, which are all operated by a wide selection of ferry companies.
About Bali:
Bali is one of the most popular and well-known island destinations in the world, situated between Java and Lombok in Indonesia.

'The Island of the Gods', with its ten thousand temples and beautifully varied landscape, is a dream destination for anyone from budgeting backpackers to the mega-wealthy. For a relatively small landmass, there are countless things to see, places to visit and backdrops to marvel at. Known for world-class surfing, exquisite beaches and luxury resorts, Bali is also characterised by forested mountains, idyllic offshore islets and picturesque rice fields. Two of the main towns are Kuta, in the south, which was one of the first tourist hubs, offering a buzzing nightlife, and Ubud, the cultural centre of Bali, acting as a slow-paced, spiritual retreat.

Ferry travel is widespread in Indonesia, and it's easy to reach Bali from numerous locations, with regular routes from some of the country's most visited locations including Lombok and the Gili Islands.