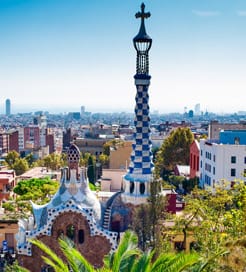 Compare ferries from Spain to Italy
There are 4 ferry routes operating between Spain and Italy offering you combined total of 10 sailings per week. Grandi Navi Veloci operates 1 route, Barcelona to Genoa which runs 2 times weekly. Grimaldi Lines operates 3 routes, Barcelona to Civitavecchia runs 6 times per week, Barcelona to Livorno about 1 time weekly & Barcelona to Savona about 1 time weekly.

As the frequency and duration of crossings on some routes varies we would advise that you do a live search for crossings from Spain to Italy to get the most up to date information.
Ferries from Spain to Italy
About Spain:
Spain is a country located on the Iberian Peninsula and bordered by Portugal to the west, France to the north-east and the Mediterranean Sea to the South and East.

The marvellous weather in Spain, its geographic location, beautiful coastlines and varied landscapes have made Spain one of the most popular holiday destinations in the world.

Its capital city Madrid features winding streets all heading to gather in the centre of the city, Barcelona needs no introduction, the Basque country is to the North and then of course there's the sunbathers mecca – the Costa del Sol.

As a country with thousands of miles of coast and numerous island groups such as the Canaries and Balearic's, travelling by ferry is deeply rooted into Spanish culture. Europe's most modern ferries and well-known ferry companies are in operation providing services from Spain to the UK, Italy and North Africa as well as crossing from the mainland to the Canary Islands, the Balearic Islands and numerous inter island connections.
About Italy:
Italy is a boot-shaped peninsula situated in the Mediterranean Sea at the bottom of Western Europe, with the Tyrrhenian Sea to the West, Ionian Sea to the South and Adriatic Sea to the East.

Italy is the fifth most visited country in the world and contains more World Heritage Sites than any other country. Although Rome, Milan, Venice and Florence are the top tourist destinations in Italy, the country's rich collections of art, culture and literature from many different periods and regions make it impossible to judge on where the most interesting location is.

With around four thousand miles of coastline, with countless gulfs, inlets, and long sandy beaches, Italy is truly adapted to the holiday lovers every need. Coastal cities with their sea resorts and awesome beaches are easily reachable by car with a variety of ferries and vessels large and small ready to sail you there.