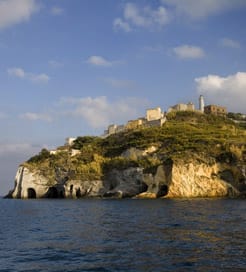 Compare ferries from Pontine Islands to Italy
There are numerous ferry crossings operating from Pontine Islands to Italy. Ferries currently connect 2 ports in Pontine Islands with 2 ports in Italy.

There are a combined number of 38 ferry crossings each week across a selection of 7 Ferry Routes which are operated by 2 ferry companies including SNAV & NLG with the shortest crossing taking around 50 minutes (Ventotene to Casamicciola).

This is a general summary of the services on offer between Pontine Islands and Italy, for live information select from our Fare Search.
Pontine Islands Italy Ferry Map
Ferries from Pontine Islands to Italy
About Pontine Islands:
The Pontines are an Italian archipelago comprising Gavi, Zannone, Palmorola, Ventotene, Santo Stefano and Ponza in the Tyrrhenian Sea to the northwest of Naples.

Although small, these islands offer a lot to all types of holidaymaker. Several archaeological sites are scattered across Venetone, and Ponza, the most visited and popular, boasts superb swimming, snorkelling and sailing conditions.

As you would expect from Mediterranean islands, the Pontines have some beautiful beaches, too, both sandy and rocky. Also, with numerous pretty harbours lining the coast, a picturesque backdrop lies around every corner.

The Pontines' main ports are in Ponza and Ventotene and, as popular day trip spots, there are frequent ferry crossings back to the Italian mainland to choose from. You can also sail within the archipelago, with all routes operated by well-established ferry companies.
About Italy:
Italy is a boot-shaped peninsula situated in the Mediterranean Sea at the bottom of Western Europe, with the Tyrrhenian Sea to the West, Ionian Sea to the South and Adriatic Sea to the East.

Italy is the fifth most visited country in the world and contains more World Heritage Sites than any other country. Although Rome, Milan, Venice and Florence are the top tourist destinations in Italy, the country's rich collections of art, culture and literature from many different periods and regions make it impossible to judge on where the most interesting location is.

With around four thousand miles of coastline, with countless gulfs, inlets, and long sandy beaches, Italy is truly adapted to the holiday lovers every need. Coastal cities with their sea resorts and awesome beaches are easily reachable by car with a variety of ferries and vessels large and small ready to sail you there.