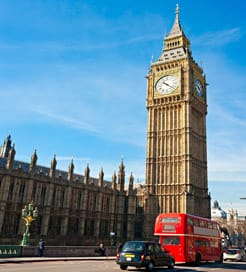 Compare ferries from England to Holland
There are 3 ferry routes operating between England and Holland offering you combined total of 31 sailings per week. P&O Ferries operates 1 route, Hull to Rotterdam which runs 7 times weekly. Stena Line operates 1 route, Harwich to Hook of Holland which runs 17 times weekly. DFDS Seaways operates 1 route, Newcastle to Amsterdam (Ijmuiden) which runs 7 times weekly.

As the frequency and duration of crossings on some routes varies we would advise that you do a live search for crossings from England to Holland to get the most up to date information.
England Holland Ferry Map
Ferries from England to Holland
About England:
England comprises the central and southern parts of Great Britain which lies in the North Atlantic, separate from continental Europe.

The country is the largest of the four so-called 'home nations' that make up the United Kingdom and also includes over 100 smaller islands including the Isle of Wight and the Isles of Scilly.

England's capital city, London, is a vast and diverse metropolitan centre and a global capital of finance, culture and fashion.

Travel by ferry is popular and convenient mode of transport amongst the British public and as an island with a wealth of first class ferry ports, England is a great departure point by ferry for many destinations, both domestic and international. Many of the worlds' leading ferry companies are household names and operate numerous crossings serving the population of Great Britain.
About Holland:
The Netherlands or Holland as its better know is a North European country bordered by Belgium and Germany, with a west coast on the North Sea.

Holland features numerous world famous cities including the likes of Amsterdam, Rotterdam, Utrecht and Delft.
The common depiction of Holland includes windmills, clogs and tulips however the Dutch have somewhat evolved away from this stereotype.

Holland is well known as a great destination for the tourist but has also recently been ranked as the happiest country in the world, which of course reflects the country's high standard of living.

Year round ferry crossings connect the south, east and north east of England to Holland with a number of routes on offer, all operated by modern ships with cruise like facilities.

Though Holland is compact nation it has very accessible road links which makes it the ideal gateway to continental Europe - perfect for onward travel to Belgium or Germany.