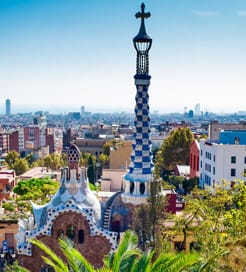 Compare ferries from Spain to Morocco
There are 4 ferry routes operating between Spain and Morocco offering you combined total of 8 sailings per week. Balearia operates 2 routes, Almeria to Nador runs 2 times per week & Algeciras to Tangier Med about 1 time weekly. Trasmediterranea operates 2 routes, Almeria to Nador runs 1 time per week & Algeciras to Tangier Med about 1 time weekly. Grandi Navi Veloci operates 2 routes, Barcelona to Tangier Med runs 1 time per week & Barcelona to Nador about 1 time weekly. Grimaldi Lines operates 1 route, Barcelona to Tangier Med which runs 1 time weekly.

As the frequency and duration of crossings on some routes varies we would advise that you do a live search for crossings from Spain to Morocco to get the most up to date information.
Ferries from Spain to Morocco
About Spain:
Spain is a country located on the Iberian Peninsula and bordered by Portugal to the west, France to the north-east and the Mediterranean Sea to the South and East.

The marvellous weather in Spain, its geographic location, beautiful coastlines and varied landscapes have made Spain one of the most popular holiday destinations in the world.

Its capital city Madrid features winding streets all heading to gather in the centre of the city, Barcelona needs no introduction, the Basque country is to the North and then of course there's the sunbathers mecca – the Costa del Sol.

As a country with thousands of miles of coast and numerous island groups such as the Canaries and Balearic's, travelling by ferry is deeply rooted into Spanish culture. Europe's most modern ferries and well-known ferry companies are in operation providing services from Spain to the UK, Italy and North Africa as well as crossing from the mainland to the Canary Islands, the Balearic Islands and numerous inter island connections.
About Morocco:
Morocco is a North African country located just across the Strait of Gibraltar from Gibraltar, with a West coast on the North Atlantic Ocean and a North coast on the Mediterranean Sea.

Morocco's bustling spice markets, stunning mosques, white-washed seaside towns and medieval city centres will no doubt overwhelm you with the amazing colours, smells and sounds of Islamic Africa. Its culture and ancient cities bring over 10 million visitors a year to Morocco.