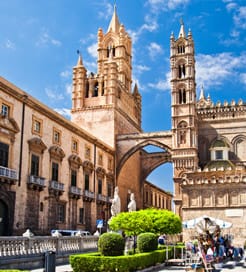 Compare ferries from Sicily to Aegadian Islands
There are numerous ferry crossings operating from Sicily to Aegadian Islands. Ferries currently connect 2 Ports in Sicily with 3 Ports in Aegadian Islands.

There are a combined number of 48 ferry crossings each day across a selection of 6 ferry routes which are operated by 2 ferry companies including Liberty Lines Fast Ferries & Siremar with the shortest crossing taking around 0 hour 25 minute (Levanzo).

This is a general summary of the services on offer between Sicily and Aegadian Islands, for live information select from our Fare Search.
Sicily Aegadian Islands Ferry Map
Ferries from Sicily to Aegadian Islands
About Sicily:
Sicily can be found to the south of Italy and is the largest island in the Mediterranean Sea, separated from the mainland by the narrow Strait of Messina.

Situated at the meeting point between East and West, Africa and Europe, Sicily is truly at the crossroads of Mediterranean culture and offers much to see, to taste, and to do. With a varied landscape of glistening seas and restless mountains, the scenery creates a dramatic and lasting impression on those who visit.

With a host of natural wonders and long warm seasons, Sicily is an attractive year round destination for explorers and holidaymakers alike.

Sicily is a hub for ferry connections with ferry services operated by some of Europe's biggest ferry companies travelling to and from most of the surrounding islands, ports on the mainland, Malta and North Africa via Tunisia.
About Aegadian Islands:
The Aegadian Islands are a group of three main islands and two minor islands in the Mediterranean located seven kilometres off the West coast of Sicily, Italy.

The archipelago boasts beautiful Mediterranean landscapes, warm winters and hot and sunny summers. Unlike the neighbouring Aeolian Islands, the Aegadian Islands have low population and are much less crowded, making them a genuine paradise for beach lovers seeking uncontaminated nature.

The main island, Favignana, is located to the south of the group and is the busiest and largest of the islands. It also features more ferry connections with the mainland than the other islands and is probably the most convenient base for those touring the island group.

Levanzo located to the northeast of the group is smaller with fewer amenities while the remote Marettimo is to the west and therefore the furthermost island from the mainland. The two minor islands of Formica and Maraone are sandwiched between Levanzo and Sicily.

You can travel to the Aegadian islands by ferry from Sicily and mainland Italy.