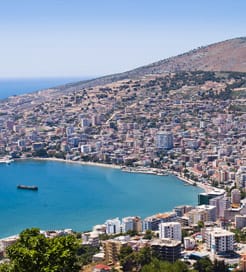 Compare ferries from Albania to Italy
There are 4 ferry routes operating between Albania and Italy offering you combined total of 46 sailings per week. Grandi Navi Veloci operates 1 route, Durres to Bari which runs 12 times weekly. Adria Ferries operates 2 routes, Durres to Bari runs 12 times per week & Durres to Ancona about 6 times weekly. Ventouris Ferries operates 1 route, Durres to Bari which runs 9 times weekly. European Ferries operates 2 routes, Vlora to Brindisi runs 3 times per week & Vlora to Bari about 2 times weekly. A-Ships Management S.A operates 1 route, Vlora to Brindisi which runs 2 times weekly.

As the frequency and duration of crossings on some routes varies we would advise that you do a live search for crossings from Albania to Italy to get the most up to date information.
Ferries from Albania to Italy
About Albania:
Albania is in southeast Europe on the Balkan Peninsula, with the Adriatic Sea to the west and the Ionian Sea to the southwest.

Its beautiful, diverse landscape comprising huge mountains, archaeological sites and idyllic villages have propelled the country to the top of most European 'must visit' lists in recent years.

The capital, Tirana boasts impressive Ottoman architecture, and the 362-kilometre coastline is blessed with some superb beaches, so there's something for everyone to enjoy.

The port of Durres is approximately 35 kilometres east of Tirana and can be found just off the SH2 motorway, whilst the ports in Vlora and Saranda, which are further south, are served by the coastal SH8 route.

Travelling by ferry is a convenient way to explore the Mediterranean and Albania offers a number of crossings across the Adriatic Sea, operated by a wide choice of ferry companies. Also, with a few ports spread along on its stunning coast, there's no shortage of sailing options.
About Italy:
Italy is a boot-shaped peninsula situated in the Mediterranean Sea at the bottom of Western Europe, with the Tyrrhenian Sea to the West, Ionian Sea to the South and Adriatic Sea to the East.

Italy is the fifth most visited country in the world and contains more World Heritage Sites than any other country. Although Rome, Milan, Venice and Florence are the top tourist destinations in Italy, the country's rich collections of art, culture and literature from many different periods and regions make it impossible to judge on where the most interesting location is.

With around four thousand miles of coastline, with countless gulfs, inlets, and long sandy beaches, Italy is truly adapted to the holiday lovers every need. Coastal cities with their sea resorts and awesome beaches are easily reachable by car with a variety of ferries and vessels large and small ready to sail you there.