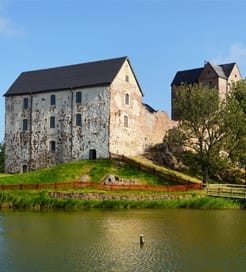 Compare ferries from Aland to Finland
There are 4 ferry routes operating between Aland and Finland offering you combined total of 53 sailings per week. Tallink Silja operates 3 routes, Langnas to Turku runs 10 times per week, Mariehamn to Helsinki about 7 times weekly & Mariehamn to Turku about 7 times weekly. Viking Line operates 3 routes, Langnas to Turku runs 7 times per week, Mariehamn to Helsinki about 3 times weekly & Mariehamn to Turku about 7 times weekly. Finnlines operates 1 route, Langnas to Naantali which runs 12 times weekly.

As the frequency and duration of crossings on some routes varies we would advise that you do a live search for crossings from Aland to Finland to get the most up to date information.
Ferries from Aland to Finland
About Aland:
Aland is an autonomous region of Finland in the Baltic Sea between Sweden and Finland.

The archipelago forms the smallest region of Finland and constitutes around half a percent of its land area and population. Aland consists of 6 municipalities and is made up of about 6700 named islands and around 20,000 islands and islets. The capital and main city is Mariehamn which is located on the main island. Mariehamn, Langnas and Eckero are where the majority of the ferries dock.

Although Finland is member of the European Union, the Aland Islands are exempt from EU tax regulations so many ferries travelling in the Baltic Sea are able to sell duty free goods, providing they stop off at Aland along the way. This has resulted in some of the most luxurious ferries being used to travel via the islands as well as producing a thriving day cruise market.

The income generated from tax free shopping is so high that ticket prices on some routes would increase by up to 1000% without the stopover in Aland.
About Finland:
Finland is a country and large peninsula in northern Europe, with Sweden to the west and Russia to the east.

'The land of a thousand lakes', which is actually speckled with around 187,888, is also known as 'the land of a thousand islands', making it one of Europe's true great wildernesses. Also, given the vast volumes of water in Finland, it offers sublime kayaking and canoeing, too.

The capital, Helsinki sits on a large south coast harbour and is by far the most densely populated area in Finland. It boasts a fully flourished art scene alongside an innovative gastronomic culture, with highly trained chefs serving locally sourced food served in brand new eateries all over the city.

With numerous routes from Sweden across the Gulf of Bothnia, from Eastern Europe across the Gulf of Finland and from Germany across the Baltic Sea, travelling by ferry is a great way to reach the Finnish shores. These routes are operated by a wealth of excellent ferry companies, operating large fleets of luxurious vessels.