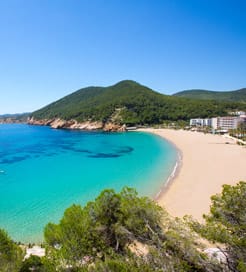 Compare ferries from Ibiza to Formentera
There is currently just the 1 ferry route running between Ibiza and Formentera operated by 2 ferry companies – Balearia & Trasmapi. The Ibiza to Formentera ferry crossing operates daily with a scheduled sailing duration from about 28 minutes.

Whilst we've taken great care to ensure the information on this page is correct, as the frequency and duration of crossings on all routes can vary from time to time we'd advise that you get a live quote for current availability on this Ibiza Formentera crossing between Ibiza and Formentera.
Ibiza Formentera Ferry Map
Ferries from Ibiza to Formentera
About Ibiza:
Ibiza is an island in the Mediterranean Sea, off the East coast of Spain.

Ibiza is a popular tourist destination, especially due to its legendary nightlife centred around Ibiza town.

Apart from its nightlife, Ibiza is actually an island of rustic beauty with many UNESCO World Heritage Sites. The island's government is now trying to encourage a more cultured and quieter tourism scene by passing rules to regulate nightclubs and hotels.