Why use
Direct Ferries?
Ferries from 3604 routes and 779 ports worldwide
Trusted by over 2.5 million customers
We arrange over 1.2 million ferry crossings / year
We check up to 1 million prices for our customers daily
Special Offers to Slovenia
Ferries to Slovenia
One of the smallest countries in Europe; Slovenia is a coastal Alpine country in southern Central Europe bordering Italy to the west, the Adriatic Sea to the southwest, Croatia to the south and east, Hungary to the northeast, and Austria to the north.
In 1848 a strong programme for a united Slovenia emerged as part of the "Spring of Nations" movement within Austria. With the collapse of the Austro - Hungarian monarchy in 1918, Slovenians initially formed part of the State of Slovenes, Croats and Serbs, which shortly joined the Kingdom of Serbs, Croats and Slovenes, later renamed (1929) the Kingdom of Yugoslavia.
Following the re-establishment of Yugoslavia at the end of World War II, Slovenia became a part of the Socialist Federal Republic of Yugoslavia, officially declared on 29 November 1945. Present-day Slovenia was formed on 25 June 1991 upon its independence from Yugoslavia. Slovenia joined NATO on 29 March 2004 and the European Union on 1 May 2004.
Read More
Read Less
Slovenia reviews
"Great service"

Our trip to Filicudi and return ran smoothly and will definitely use Liberty Lines again.

Read More

Read Less

"A comfertable trip! "

The crew was very friendly and competent! There is no catering onboard so bring food if you need to eat. Looking foreward to taking this trip again!

Read More

Read Less

"Perfect"

Horaire rapidité destination parking Et tarif Rien a dire C'était très bien

Read More

Read Less

"Memorable Boat trip"

Our group of five was from the UK and really enjoyed the trip.The boat was clean and the staff friendly and helpful. There is a restaurant and bar with reasonably priced decent food. The boat and cabins were spotless and comfortable. If anything could be improved it would be the booking process which did not let me book a cabin on line. Queuing for foot passenger boarding was not enjoyable as we were stood next to the lorry queue for about 30 minutes and fumes were unpleasant. The views approaching Stromboli made it a overall a memorable and enjoyable experience..

Read More

Read Less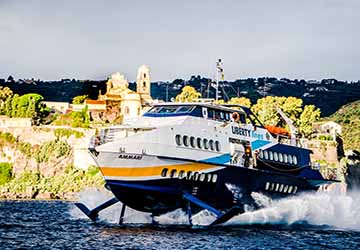 Routes and Ports in Slovenia