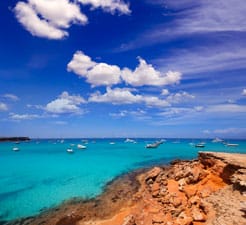 How to book a Ferry to Formentera
With our Ferry to Formentera guide you will get all the info you need in order to plan your ferry crossing to Formentera.
With our ferry comparison tool you can compare all ferries to Formentera as well as all available alternatives in one quick and easy search.
All you need to do is enter the relevant information into our 'Fare Search' and hit search to continue.
Formentera Ferry Services
Ferry to Formentera reviews
"Boat trip to Formentera"

Had a wonderful time in Formentera worth a trip. The Ferry is basic seating and took roughly 55 minutes to make the crossing. One thing to keep in mind if you book online and get a confirmation This is not a Ticket You will need to go to the Ferry terminal and display or print out your confirmation and a tick will be issued. Give yourself plenty of time to Queue to get the printed ticket. We displayed the e-mail via Mobile phone.

'Andy ' travelled by Ferry to Formentera with Aquabus

Read More

Read Less

"Easy crossing"

The ferry crossing left sharp on outward and inward journeys, a few minutes early to be precise. The crossing was smooth. The ferry was clean and had catering services and a shop on board. Plenty of choice for food and drink which was prepared and served well. We were satisfied with the catering. The seating was comfortable and the film that played was just the right length for the crossing. My husband was not near enough the screen to watch, so if interested choose seats carefully. The return trip was quiet and we were not allowed to sit upstairs which we had looked forward to for the view as upstairs was full up on the trip over which was the only disappointment. Embarking and disembarking was efficient and luggage even on the full trip over was stowed and easy to retrieve. Toilets were clean.

'Morag' travelled by Ferry to Formentera with Balearia on Ramon Llull

Read More

Read Less

"Satisfied Customer"

Our transfer between the islands was seamless. The ferries were on time, comfortable and the crew helped us with our baggage. Would use this ferry company again without hesitation.

'Anonymous' travelled by Ferry to Formentera with Mediterranea Pitiusa

Read More

Read Less

"Trip to Formntera"

Excellent trip Fast and on time . Friendly staff. Would recommend to anyone.

'Derek' travelled by Ferry to Formentera with Balearia on Ramon Llull

Read More

Read Less