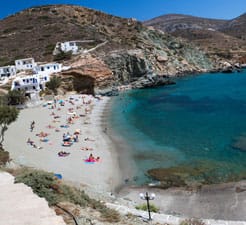 How to book a Ferry to Folegandros
With Direct Ferries you can find a Ferry to Folegandros and quickly and easily compare with other sailings to Cyclades Islands or neighbouring countries to ensure you book the best crossing available.
Our comparison tool allows you to view Folegandros timetables and ferry prices on all possible routes removing the need to check numerous other websites.
All you need to do is enter the relevant information into our 'Fare Search' and hit search to continue.
Folegandros Ferry Services
Ferry to Folegandros reviews
"All good"

No issues this time. Punctual travel.

'Martti' travelled by Ferry to Folegandros with Sea Jets on Seajet2

Read More

Read Less

"Smooth crossing"

Ran on time going to Folegandros, ran about 25 minutes late returning to Thira. Huge selection of food and drinks. Staff speak all languages to help you to your allocated seats. Note, seat numbers are on the ceiling!

'Michelle' travelled by Ferry to Folegandros with Sea Jets on Superjet

Read More

Read Less

"Santorini to Folegandros transfer"

We purposely chose a conventional ferry rather than a quicker Sea Jet so that we could sit on deck, sunbathe, & take in the views. We were not disappointed and got to see another couple of small islands which we called into en route. The ship was very clean & tidy & the facilities were all excellent. The only downside was the 7.00 am sailing which necessitated a 5.00 am alarm

'Christopher' travelled by Ferry to Folegandros with Zante Ferries

Read More

Read Less

"Nice trip"

The ferry was a bit late, but you expect that in Greece. Refreshments were reasonably priced, the boat was clean and there were lots of tables and chairs on the decks, which was much more pleasant than the faster, smaller ferries, on which you are packed into rows of seats inside.

'Stephen' travelled by Ferry to Folegandros with Zante Ferries

Read More

Read Less