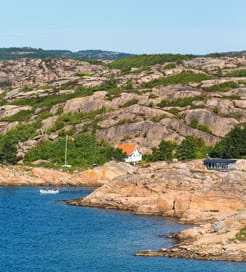 Compare ferries from Sweden to Finland
There are numerous ferry crossings operating from Sweden to Finland. Ferries currently connect 4 ports in Sweden with 4 ports in Finland.

There are a combined number of 24 ferry crossings each day across a selection of 9 Ferry Routes which are operated by 5 ferry companies including Tallink Silja, Viking Line, Finnlines, Eckerö Linjen & Wasaline with the shortest crossing taking around 1 hour 45 minutes (Grisslehamn to Eckero).

This is a general summary of the services on offer between Sweden and Finland, for live information select from our Fare Search.
Ferries from Sweden to Finland
About Sweden:
Sweden is the largest Nordic country in northern Europe, bordered by Norway to the west and Finland to the east.

A country famed for its stunning landscape, Sweden also has a fast-paced capital in Stockholm, spread across 14 islands connected by 57 bridges, which brings with it a world-leading fashion scene and an immersive historic district.

Further north, you'll find untouched wilderness blanketed by snow, with dramatic mountains in the skyline, dense forest and countless reindeer in front of you and the mesmerising Northern Lights shining above. There are also plenty of beautiful islands and archipelagos dotted in the Baltic Sea.

Sweden is an excellent departure point for a large number of destinations in Scandinavia and northern mainland Europe. With numerous ferry ports on the country's long coast, operated by leading ferry companies, travelling by ferry is the most convenient way to explore Sweden's islands and neighbouring countries.
About Finland:
Finland is a country and large peninsula in northern Europe, with Sweden to the west and Russia to the east.

'The land of a thousand lakes', which is actually speckled with around 187,888, is also known as 'the land of a thousand islands', making it one of Europe's true great wildernesses. Also, given the vast volumes of water in Finland, it offers sublime kayaking and canoeing, too.

The capital, Helsinki sits on a large south coast harbour and is by far the most densely populated area in Finland. It boasts a fully flourished art scene alongside an innovative gastronomic culture, with highly trained chefs serving locally sourced food served in brand new eateries all over the city.

With numerous routes from Sweden across the Gulf of Bothnia, from Eastern Europe across the Gulf of Finland and from Germany across the Baltic Sea, travelling by ferry is a great way to reach the Finnish shores. These routes are operated by a wealth of excellent ferry companies, operating large fleets of luxurious vessels.