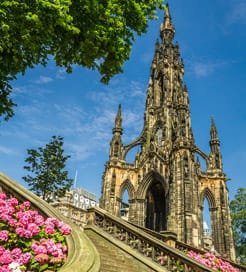 Compare ferries from Scotland to Isle of Skye
There are 3 ferry routes operating between Scotland and Isle of Skye offering you combined total of 86 sailings per week. Caledonian MacBrayne operates 3 routes, Lochmaddy to Uig runs 12 times per week, Mallaig to Armadale about 9 times daily & Tarbert (Harris) to Uig about 11 times weekly.

As the frequency and duration of crossings on some routes varies we would advise that you do a live search for crossings from Scotland to Isle of Skye to get the most up to date information.
Scotland Isle of Skye Ferry Map
Ferries from Scotland to Isle of Skye
About Scotland:
Scotland is the northernmost country in the United Kingdom, occupying the Northern third of the land, sharing a border with England to the South.

Scotland is a beautiful country well-known for its dramatic scenery of mountains and rugged coastlines, with the natural scenes of the Highlands as a top winner.

The Scottish climate tends to be very changeable, but even though the sun might not always shine, the warm welcome from the wonderful diversity of landscapes attracts many visitors.

If you're heading away from Scotland by ferry then Northern Ireland is easily accessible with a choice of routes and ferry companies. Travelling from the Scottish mainland to the Orkney, Shetland or any of the destinations off Scotland's west coast is more convenient than ever before and you'll get to take in some of the most spectacular coastlines and landscapes in the UK while you sail too.

The direct route to the continent is no longer available, but there are numerous routes from Northern England to use instead.
About Isle of Skye:
The Isle of Skye is one of Scotland's most famous islands, situated at the northernmost point of the Inner Hebrides, off the northwest coast.

Packing the very best of Scotland into just over a thousand-square miles: magical landscapes, enigmatic ruins and a captivating history, Skye is one of the country's very best tourist attractions. Stretching fifty, glorious miles long, it is a world-class hiking destination, offering a dozen peaks, remarkable rock formations and mouth-watering views. Along these walks lie historical wonders like Dunvegan Castle, a third millennium BC chambered cairn and an Iron Age fort. The largest settlement, Portree, is the cultural hub, set upon a picturesque natural harbour lined by fishing boats, boasting cheerful pubs and an award-winning theatre.

The Isle of Skye has ports on its north coast for routes from the Outer Hebrides, and on the southern tip for ferry crossings from mainland Scotland, so it's within easy reach from many domestic locations.