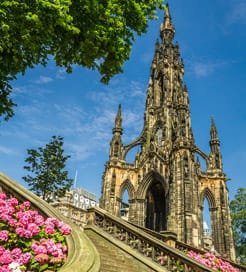 Compare ferries from Scotland to Isle of Colonsay
There are 3 ferry routes operating between Scotland and Isle of Colonsay offering you combined total of 6 sailings per week. Caledonian MacBrayne operates 3 routes, Oban to Colonsay runs 2 times per week, Port Askaig to Colonsay about 2 times weekly & Kennacraig to Colonsay about 2 times weekly.

As the frequency and duration of crossings on some routes varies we would advise that you do a live search for crossings from Scotland to Isle of Colonsay to get the most up to date information.
Scotland Isle of Colonsay Ferry Map
Ferries from Scotland to Isle of Colonsay
About Scotland:
Scotland is the northernmost country in the United Kingdom, occupying the Northern third of the land, sharing a border with England to the South.

Scotland is a beautiful country well-known for its dramatic scenery of mountains and rugged coastlines, with the natural scenes of the Highlands as a top winner.

The Scottish climate tends to be very changeable, but even though the sun might not always shine, the warm welcome from the wonderful diversity of landscapes attracts many visitors.

If you're heading away from Scotland by ferry then Northern Ireland is easily accessible with a choice of routes and ferry companies. Travelling from the Scottish mainland to the Orkney, Shetland or any of the destinations off Scotland's west coast is more convenient than ever before and you'll get to take in some of the most spectacular coastlines and landscapes in the UK while you sail too.

The direct route to the continent is no longer available, but there are numerous routes from Northern England to use instead.
About Isle of Colonsay:
The Isle of Colonsay is a relatively small landmass, sitting north of Islay, and south of Mull, within the Inner Hebrides of Scotland.

Held in high regard for its natural beauty and varied wildlife, Colonsay's accolades include award-winning hotels, internationally acclaimed archaeological sites, including a Mesolithic nut shelling pit, and the most hours of annual sunshine in Scotland. It also has some of the very best beaches in the country, making it an unbeatable British summer holiday destination. Moreover, oyster-farming, honey-making, brewery tours and arts and crafts lessons are all common activities you can enjoy during your stay on the 'Jewel of the Hebrides'.

The Isle of Colonsay's main port is in Scalasaig on the east coast, which is accessible from both the Scottish mainland and the Inner Hebrides, with daily ferry routes from Oban and the Isle of Islay.