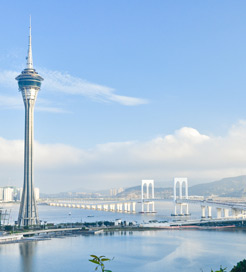 Compare ferries from Macau to China
There are 3 ferry routes operating between Macau and China offering you combined total of 7 sailings per day. TurboJet operates 3 routes, Macau (Outer Harbour) to Shenzhen Airport (Fu Yong) runs 4 times per day, Macau (Outer Harbour) to Shenzhen (Shekou) runs 3 times per day, & Macau (Taipa) to Shenzhen (Shekou) which runs 7 times daily.

As the frequency and duration of crossings on some routes varies we would advise that you do a live search for crossings from Macau to China to get the most up to date information.
Ferries from Macau to China
About Macau:
The tiny Special Administrative Region of Macau lies 65 kilometres west of Hong Kong.

Defined by Portuguese colonial architecture and contemporary casinos, Macau is a fascinating mix of cultures. One moment you'll be admiring 17th Century church ruins, then you could be sampling authentic Chinese food whilst relaxing in a modern sky lounge.

As one of the earliest European colonies in Asia and the last to be relinquished, Macau has spectacular historical landmarks around every corner. The most popular include the Ruins of St Paul's Church and the small village of Coloane which was a haven for pirates and privateers until 1910.

Travelling by ferry is a popular mode of transport in Macau and it boasts excellent services from its two ports. There is a large number of high-speed crossings to many destinations in China, all operated by some of the region's leading ferry companies.
About China:
China is a massive country in East Asia, and the most populous on the planet, spanning over nine and a half million square-kilometres.

Known the world over for its sumptuous cuisine, historic landmarks and animated New Year celebrations, China has an intensely rich cultural heritage, accommodating almost a hundred million visitors each year. Many millenniums of inhabitation have culminated in some of the most recognisable monuments on earth: the Great Wall of China, the Forbidden City Palace of Beijing and the Terracotta Army sculptures. While the capital, Beijing, and largest city, Shanghai, are skyscraper-clad testaments to the nation's progressive and ultra-modern outlook.

The frequent and high-speed ferry services make it easy to reach to China from the Special Administrative Regions of Macau and Hong Kong, with multiple crossings every day lasting no longer than an hour. For international services, long-haul sailings from South Korea and Japan are also available.