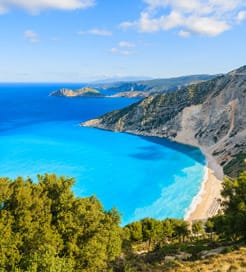 Compare ferries from Kefalonia to Greece
There are numerous ferry crossings operating from Kefalonia to Greece. Ferries currently connect 2 Ports in Kefalonia with 3 Ports in Greece.

There are a combined number of 6 ferry crossings each day across a selection of 3 ferry routes which are operated by 2 ferry companies including Kefalonian Lines & Levante Ferries with the shortest crossing taking around 0 hour 20 minute (Ithaka (Pisaetos)).

This is a general summary of the services on offer between Kefalonia and Greece, for live information select from our Fare Search.
Kefalonia Greece Ferry Map
Ferries from Kefalonia to Greece
About Kefalonia:
Kefalonia is the largest of the Ionian islands in western Greece and features a mild climate along with some excellent beaches.

Since it became popular amongst tourists in the eighties, Kefalonia now gets visitors not just from Greece and Europe but from all over the world and is well-equipped to handle the influx of tourists during the busy season.

The film, Captain Corelli's Mandolin was shot on the island itself which helped to make it more widely known.

With 2 ferry ports on the island (Sami and Poros) Kefalonia is ideally situated for connections to the other Greek islands.
About Greece:
Greece is one of the world's most visited countries. With the Aegean Sea to the East of the mainland, the Ionian Sea to the West, the Mediterranean Sea to the South and a vast number of islands, Greece boasts some 16,000 kilometres of coastline.

Greece is a country rich with diversity, from its mountainous mainland to the stunning islands with their whitewashed houses and blue-domed churches. Many of the Greek beaches have been awarded the Blue Flag, while the country's rich history and legacy has left it with 18 UNESCO World Heritage Sites.

The Greek mainland is easily reached by ferry across the Adriatic Sea from Italy while domestically, due to the sheer number of islands, there are many ferry companies and a range of services on offer. The majority of the domestic ferries are modern, though the class of ferry differs based on the journey type. The longer routes are served by conventional passenger ferries, while the shorter inter island routes are served by high speed catamarans and hydrofoils.