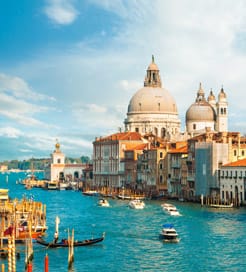 Compare ferries from Italy to Tremiti Islands
There are numerous ferry crossings operating from Italy to Tremiti Islands. Ferries currently connect 5 Ports in Italy with 2 Ports in Tremiti Islands.

There are a combined number of 3 ferry crossings each day across a selection of 6 ferry routes which are operated by 3 ferry companies including Tirrenia, NLG & Gruppo Armatori Garganici with the shortest crossing taking around 0 hour 40 minute (San Nicola (Tremiti)).

This is a general summary of the services on offer between Italy and Tremiti Islands, for live information select from our Fare Search.
Italy Tremiti Islands Ferry Map
Ferries from Italy to Tremiti Islands
About Italy:
Italy is home to the greatest number of UNESCO World Heritage Sites in the world. Together with Greece, it is known as the birthplace of Western culture.

Full of high art and monuments, almost every small village in Italy offers a few interesting locations. From the Roman ruins, Byzantine cities and Renaissance masterpieces to cobblestone streets, beautiful churches and wide variety of stunning beaches, Italy is a place that provides rare experiences that can never be overrated.

Italy is the ideal departure country for those travelling by ferry with numerous amazing destinations, many of them domestic on offer. With so many miles of coastline and famous islands to choose from, the list of destinations is truly unrivalled. In terms of international travel, Italy is connected to almost all of the countries in the Adriatic Sea as well as featuring numerous links to Greece, Tunisia and Spain.

The short island crossings are usually made with small passenger vessels while the longer international journeys are operated by luxurious cruise ferries.
About Tremiti Islands:
The Tremiti Islands sit just north of the Gargano Peninsula in southeast Italy, in the Adriatic Sea, consisting of San Domino, San Nicola, Capraia, Cretaccio and Pianosa.

Despite their appeal on land: verdant forests, dramatic cliffs and hilltop forts, it's beneath the clear blue sea you'll find their greatest assets, attracting over a hundred thousand diving and swimming enthusiasts each summer. The waters are part of a marine reserve, where you can explore underwater caves, sparkling grottoes, rock arches and gorges, while surrounded by schools of colourful fish. And, although used primarily as internment camps during Mussolini's regime, the Tremiti Islands have since flourished into an important tourist destination.

A number of ferry companies offer fast and regular crossings to a couple of islands in the Tremiti archipelago, San Domino and San Nicola, from various towns on 'the heel' of the Italian coast.