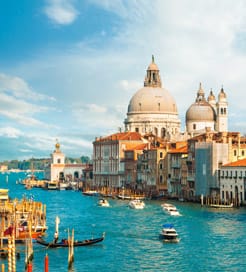 Compare ferries from Italy to Elba
There are 4 ferry routes operating between Italy and Elba offering you combined total of 61 sailings per day. Corsica Ferries operates 1 route, Piombino to Portoferraio which runs 3 times daily. Moby Lines operates 2 routes, Piombino to Portoferraio runs 11 times per day & Piombino to Cavo about 4 times daily. Toremar operates 4 routes, Piombino to Portoferraio runs 21 times per day, Piombino to Cavo about 5 times daily, Piombino to Rio Marina about 8 times daily & Pianosa to Rio Marina about 1 time weekly. Blu Navy operates 1 route, Piombino to Portoferraio which runs 8 times daily.

As the frequency and duration of crossings on some routes varies we would advise that you do a live search for crossings from Italy to Elba to get the most up to date information.
Ferries from Italy to Elba
About Italy:
Italy is home to the greatest number of UNESCO World Heritage Sites in the world. Together with Greece, it is known as the birthplace of Western culture.

Full of high art and monuments, almost every small village in Italy offers a few interesting locations. From the Roman ruins, Byzantine cities and Renaissance masterpieces to cobblestone streets, beautiful churches and wide variety of stunning beaches, Italy is a place that provides rare experiences that can never be overrated.

Italy is the ideal departure country for those travelling by ferry with numerous amazing destinations, many of them domestic on offer. With so many miles of coastline and famous islands to choose from, the list of destinations is truly unrivalled. In terms of international travel, Italy is connected to almost all of the countries in the Adriatic Sea as well as featuring numerous links to Greece, Tunisia and Spain.

The short island crossings are usually made with small passenger vessels while the longer international journeys are operated by luxurious cruise ferries.
About Elba:
Italy's third largest island, Elba makes up the majority of the Tuscan Archipelago in the Tyrrhenian Sea.

Napoleon's exile to Elba originally put the island on the map, but today, tourists come here for the incredibly clear and blue waters, stunning beaches and outdoor activities like hiking and mountain biking across the beautiful terrain. Also, as part of the largest marine park in Europe, it's a great spot for diving, with an abundance of rich sea beds and colourful fish.

Some of the top attractions include the numerous archaeological museums, impressive battlements and fortresses and the beautiful former residences of Napoleon, Palazzina dei Mulini.

Elba has a few ports in the northwest region, so it's within easy reach by ferry from mainland Italy and the surrounding islands in the Tyrrhenian Sea. There are plenty of ferry operators to choose from, all offering fast and regular crossings.