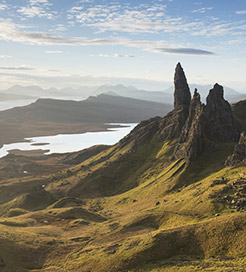 Compare ferries from Isle of Skye to Scotland
There are 3 ferry routes operating between Isle of Skye and Scotland offering you combined total of 86 sailings per week. Caledonian MacBrayne operates 3 routes, Uig to Lochmaddy runs 12 times per week, Armadale to Mallaig about 9 times daily & Uig to Tarbert (Harris) about 11 times weekly.

As the frequency and duration of crossings on some routes varies we would advise that you do a live search for crossings from Isle of Skye to Scotland to get the most up to date information.
Isle of Skye Scotland Ferry Map
Ferries from Isle of Skye to Scotland
About Isle of Skye:
The Island of Skye is the largest and northernmost of the Scottish Inner Hebrides, widely regarded as one of Europe's top island destinations.

A land of geological wonders and incredible biodiversity, Skye has everything you need for a spectacular outdoor adventure. The famed Cuillin mountain range attracts the hardiest of hikers from around the world, whilst the captivating Dunvegan Castle provides fun for all the family.

However, without a doubt, Skye's biggest pull factor is its natural beauty. You'll see vast, rolling moors and sparkly lochs, usually accompanied by red deer, Scottish wildcats and mountain hares.

Given the island's location between the two, Skye is a good departure point for mainland Scotland and the Outer Hebrides. Regular crossings are provided from Skye's ports in Armadale on the south coast and from Uig to the north.
About Scotland:
Scotland is the Northernmost of the four countries that form the United Kingdom of Great Britain. Surrounded by the North Atlantic Ocean to the West and North, the North Sea to the East and across the border to the South you'll find England.

Scotland is a lively and friendly country, rich in history and heritage dating back thousands of years. People flock here to visit not only the beautiful mountains and valleys, rolling hills, forests and rocky coastlines but also for the experiences that Scotland has to offer.

Whether you're looking to play a game of golf at the very place it was invented or to visit one of the many distilleries for some whiskey tasting, Scotland has much to offer any visitor.

In terms of arriving by ferry to Scotland, from Northern Ireland there's a choice of year round services from and to numerous ports with sailings operated by modern and well-equipped ferries.

There are no longer any direct ferries from continental Europe to Scotland however there are numerous crossings to England and Ireland that get you close enough.