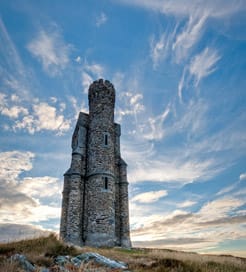 Compare ferries from Isle of Man to England
There are 3 ferry routes operating between Isle of Man and England offering you combined total of 27 sailings per week. Steam Packet operates 3 routes, Douglas to Heysham runs 13 times per day, Douglas to Liverpool runs 12 times per day, & Douglas to Liverpool Birkenhead which runs 2 times daily.

As the frequency and duration of crossings on some routes varies we would advise that you do a live search for crossings from Isle of Man to England to get the most up to date information.
Isle of Man England Ferry Map
Ferries from Isle of Man to England
About Isle of Man:
The Isle of Man is a self-governing British Crown dependency in the heart of the Irish Sea.

Falling under Norse rule in 1079, the Isle of Man draws heavy influence from the Viking era, most notably in the name 'Tynwald', the oldest continuously used parliament in the world. The island is also characterised by an untouched, beautiful landscape comprising idyllic beaches, rolling green plains and a rugged coastline, earning it a UNESCO Biosphere declaration in March 2016.

The unspoilt terrain and winding country roads make it a top destination for cyclists and motorcyclists and the Isle of Man is perhaps most known for the world famous TT motorbike races held every May and June, attracting around 50,000 visitors each year.

The Isle of Man's main port is in Douglas on the southeast coast and, given the island's central location in the Irish Sea, it is a useful gateway for the British Isles and the Republic of Ireland.
About England:
England is the largest and most populous of the four 'home nations' that make up the United Kingdom.

Geographically England is defined as the region in the central and southern parts of the United Kingdom with Scotland to the North, Wales to the West and North Ireland to the West across the Irish Sea.

England can be divided into Northern England, the Midlands and Southern England with London in the South as the capital and centre of finance and culture.

Ferry travel is a very popular and well developed mode of reaching England, especially with visitors from Ireland and Northern Europe. It is an island after all.

With a choice of numerous ferry ports on offer connecting the likes of Ireland across the Irish Sea, France across the channel and Holland across the North Sea, it is no surprise that crossings to England and its numerous world class ports are managed by some of the largest, luxurious and most well-known ferry companies in operation.