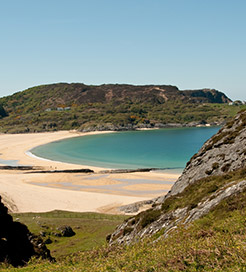 Compare ferries from Isle of Colonsay to Scotland
There are 3 ferry routes operating between Isle of Colonsay and Scotland offering you combined total of 5 sailings per week. Caledonian MacBrayne operates 3 routes, Colonsay to Oban runs 2 times per week, Colonsay to Port Askaig about 2 times weekly & Colonsay to Kennacraig about 1 time weekly.

As the frequency and duration of crossings on some routes varies we would advise that you do a live search for crossings from Isle of Colonsay to Scotland to get the most up to date information.
Isle of Colonsay Scotland Ferry Map
Ferries from Isle of Colonsay to Scotland
About Isle of Colonsay:
The Isle of Colonsay lies between Mull and Islay in the Inner Hebrides off the west coast of Scotland.

Affectionately known as 'the jewel of the Hebrides', Colonsay boasts outstanding natural landscapes comprising vividly coloured wildflowers, golden beaches and rolling green plains. Also, measuring just 15-square-miles, it's a great location for a peaceful island getaway.

Colonsay has a wide range of luxurious holiday cottages available, as well as a boutique hotel and hostel. Most offer incredible sea views, giving you a chance to spot some of the fascinating local wildlife like wild goats, highland cattle and a variety of rare bird species.

The island's ferry terminal is in Scalasaig on the east-central coast, where daily sailings are provided to Oban on the Scottish mainland, as well as slightly less frequent crossings to the Isle of Islay to the south.
About Scotland:
Scotland is the Northernmost of the four countries that form the United Kingdom of Great Britain. Surrounded by the North Atlantic Ocean to the West and North, the North Sea to the East and across the border to the South you'll find England.

Scotland is a lively and friendly country, rich in history and heritage dating back thousands of years. People flock here to visit not only the beautiful mountains and valleys, rolling hills, forests and rocky coastlines but also for the experiences that Scotland has to offer.

Whether you're looking to play a game of golf at the very place it was invented or to visit one of the many distilleries for some whiskey tasting, Scotland has much to offer any visitor.

In terms of arriving by ferry to Scotland, from Northern Ireland there's a choice of year round services from and to numerous ports with sailings operated by modern and well-equipped ferries.

There are no longer any direct ferries from continental Europe to Scotland however there are numerous crossings to England and Ireland that get you close enough.