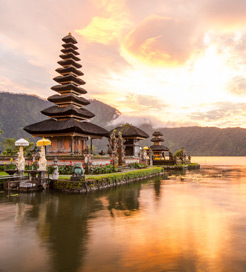 Compare ferries from Indonesia to Gili Islands
There are numerous ferry crossings operating from Indonesia to Gili Islands. Ferries currently connect 2 ports in Indonesia with 4 ports in Gili Islands.

There are a combined number of 68 ferry crossings each week across a selection of 8 Ferry Routes which are operated by 4 ferry companies including Bluewater Express, Marlin Fast Boat, Gili Getaway & Bali Eka Jaya with the shortest crossing taking around 1 hour (Nusa Penida (Buyuk Harbour) to Gili Gede).

This is a general summary of the services on offer between Indonesia and Gili Islands, for live information select from our Fare Search.
Indonesia Gili Islands Ferry Map
Ferries from Indonesia to Gili Islands
About Indonesia:
Indonesia is the world's 4th most populous country situated in Southeast Asia, comprising over 17,000 islands stretched along the equator, of which only 8,000 are inhabited.

As you would expect from the largest archipelago on the planet, Indonesia has an incredibly diverse landscape and culture, with over 300 languages spoken, the world's 2nd largest tropical forest, 130 active volcanoes and 1,000's of spectacular temples spread across the islands.

Most tourists flock to Bali, the hub for luxury resorts, stunning beaches and excellent surf breaks. The capital, Jakarta has great shopping spots and the largest mosque in Southeast Asia, whilst the Gili Islands offer a buzzing nightlife tailored for backpackers.

Given the sheer quantity of islands in Indonesia, travelling by ferry is the best way to get around. It has an extensive ferry network offering domestic routes to and from some of the most popular destinations in the country, as well as international crossings to Singapore, which are all operated by a wide selection of ferry companies.