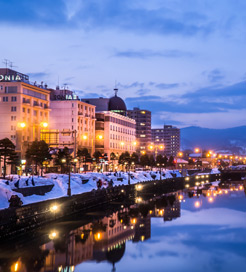 Compare ferries from Hokkaido to Japan
There are 4 ferry routes operating between Hokkaido and Japan offering you combined total of 34 sailings per week. MOL Ferry operates 1 route, Tomakomai to Oarai which runs 14 times weekly. Shin Nihonkai Ferry operates 3 routes, Tomakomai Higashi to Akita runs 6 times per week, Tomakomai Higashi to Niigata about 6 times weekly & Tomakomai Higashi to Tsuruga about 8 times weekly.

As the frequency and duration of crossings on some routes varies we would advise that you do a live search for crossings from Hokkaido to Japan to get the most up to date information.
Ferries from Hokkaido to Japan
About Hokkaido:
Hokkaido, formerly known as Ezo, is the second largest island in Japan and the northernmost prefecture.

As it was only settled by the Japanese in the last 100 years, compared to the millennia-old history found in the rest of the country, Hokkaido has both vast areas of unspoilt beauty and large, modern cities.

It claims 20% of Japan's land area but only 5% of its population, which makes Hokkaido a favoured destination amongst hikers, skiers and nature lovers. It has spectacular national parks speckled with hot springs known as 'onsen', dramatic mountains and diverse wildlife, whilst the bustling capital, Sapporo has everything you would expect from a well-developed city.

From the Tomakomai ferry terminal on the south coast, approximately 70 kilometres south of Sapporo on the Hokkaido Expressway, there are frequent crossings to Oarai on the east coast of Ibaraki Prefecture, a town known for its lovely sandy beaches.