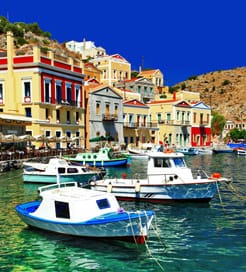 Compare ferries from Greece to Samos
There is no shortage of options to choose from when it comes to selecting a ferry from Greece to Samos. There are 2 ferry companies with a combined offering of 36 Ferry Routes connecting Fournoi to Pythagorio, Agathonisi to Pythagorio, Arki to Pythagorio, Patmos to Pythagorio & Vathi, Lipsi to Pythagorio, Kalymnos to Pythagorio, Kos to Pythagorio & Vathi, Agios Kirikos to Pythagorio, Karlovassi & Vathi, Rhodes to Pythagorio & Vathi, Chios to Karlovassi & Vathi & Piraeus to Karlovassi & Vathi.

The fastest route between Greece and Samos is Agathonisi to Pythagorio with a crossing duration of around 35 minutes. With so many routes on offer we make it simple by comparing all similar routes in one search so you can quickly find what you are looking for.
Ferries from Greece to Samos
About Greece:
Greece is a country in Southern Europe with the 11th longest coastline in the world, sharing borders with Albania, Macedonia, Bulgaria and Turkey, and with islands in the Aegean, Ionian and Mediterranean Seas.

As one of the world's most popular tourist destinations, the country's fabulous beaches, whitewashed homes, historical sites and favourable climate attract huge numbers of visitors to its islands year round, though the majority arrive between April and October.

Whether you arrive on the mainland by sea or by air, the majority of islands can only be reached by ferry. With the number of services on offer, as you may expect, Greek ferries are of a high standard and most ferry companies feature a modern and luxurious fleet. All Greek islands are linked to the mainland, some directly, some indirectly and island-hopping is great experience, not to be missed.

Due to being a gateway to the islands, the Greek mainland is well connected to Italy across the Adriatic Sea too.
About Samos:
Samos is one of the most famous islands in Greece, close to the Turkish coast in the Aegean Sea, separated by the mile-wide Mycale Strait.

Steeped in history of legendary proportion, Samos is believed to be the birthplace of Greek Goddess, Hera. Consequently, the ruinous Heraion, once the largest temple in Greece, is one of the top attractions. Famous mathematician, Pythagoras was also born here. But, beyond the historical significance of Samos lies one of the most physically appealing islands in the Aegean, with an endless choice of typically beautiful, Mediterranean beaches with warm, clear waters.

The capital and largest town, Vathy has plenty of lively bars and restaurants, but most visitors head to the stunning port village of Pythagorio for its traditional architecture and sublime seafront views.

Greece is one of the easiest countries to travel by ferry, due to the high concentration of islands in the Aegean Sea. Samos has a few ports which are served by a range of excellent ferry operators, sailing from a huge number of domestic cities and archipelagos.