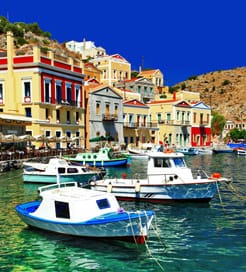 Compare ferries from Greece to Lesbos
There are 3 ferry routes operating between Greece and Lesbos offering you combined total of 8 sailings per week. Hellenic Seaways operates 3 routes, Thessaloniki to Mytilene runs 1 times per day, Kavala to Mytilene runs 4 times per day, & Oinousses to Mytilene which runs 3 times daily.

As the frequency and duration of crossings on some routes varies we would advise that you do a live search for crossings from Greece to Lesbos to get the most up to date information.
Ferries from Greece to Lesbos
About Greece:
Greece is a country in Southern Europe with the 11th longest coastline in the world, sharing borders with Albania, Macedonia, Bulgaria and Turkey, and with islands in the Aegean, Ionian and Mediterranean Seas.

As one of the world's most popular tourist destinations, the country's fabulous beaches, whitewashed homes, historical sites and favourable climate attract huge numbers of visitors to its islands year round, though the majority arrive between April and October.

Whether you arrive on the mainland by sea or by air, the majority of islands can only be reached by ferry. With the number of services on offer, as you may expect, Greek ferries are of a high standard and most ferry companies feature a modern and luxurious fleet. All Greek islands are linked to the mainland, some directly, some indirectly and island-hopping is great experience, not to be missed.

Due to being a gateway to the islands, the Greek mainland is well connected to Italy across the Adriatic Sea too.
About Lesbos:
As the third largest island in Greece, Lesbos covers an area of over sixteen hundred square kilometres in the north-eastern Aegean Sea.

You won't come across many tourist resorts on Lesbos, but what you will find are roughly eleven million olive trees, copious sandy beaches, lively port towns and an authentic Greek lifestyle. Add to that list a petrified forest, fossilized around twenty million years ago, and you have one of the country's most extraordinary islands.

Commonly sighted are almost three hundred bird species, which are best admired along one of the many hiking trails and cycling routes, or when relaxing in therapeutic hot springs, flowing with some of the warmest mineral waters on the continent.

Greece has one of the largest ferry networks in Europe, owing to the sheer quantity of islands and archipelagos. Lesbos is served by many routes from around the Aegean, including a few cities on the mainland and the surrounding islands.