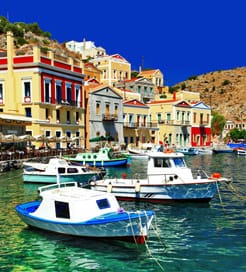 Compare ferries from Greece to Ikaria
There is no shortage of options to choose from when it comes to selecting a ferry from Greece to Ikaria. There are 2 ferry companies with a combined offering of 31 Ferry Routes connecting Fournoi to Agios Kirikos & Evdilos, Patmos to Agios Kirikos, Lipsi to Agios Kirikos, Kalymnos to Agios Kirikos, Kos to Agios Kirikos, Pythagorio to Agios Kirikos, Mykonos to Evdilos & Agios Kirikos, Fournoi to Agios Kirikos & Evdilos, Piraeus to Evdilos & Agios Kirikos, Karlovassi to Agios Kirikos & Evdilos & Mykonos to Evdilos & Agios Kirikos.

The fastest route between Greece and Ikaria is Fournoi to Agios Kirikos with a crossing duration of around 15 minutes. With so many routes on offer we make it simple by comparing all similar routes in one search so you can quickly find what you are looking for.
Ferries from Greece to Ikaria
About Greece:
Greece is a country in Southern Europe with the 11th longest coastline in the world, sharing borders with Albania, Macedonia, Bulgaria and Turkey, and with islands in the Aegean, Ionian and Mediterranean Seas.

As one of the world's most popular tourist destinations, the country's fabulous beaches, whitewashed homes, historical sites and favourable climate attract huge numbers of visitors to its islands year round, though the majority arrive between April and October.

Whether you arrive on the mainland by sea or by air, the majority of islands can only be reached by ferry. With the number of services on offer, as you may expect, Greek ferries are of a high standard and most ferry companies feature a modern and luxurious fleet. All Greek islands are linked to the mainland, some directly, some indirectly and island-hopping is great experience, not to be missed.

Due to being a gateway to the islands, the Greek mainland is well connected to Italy across the Adriatic Sea too.
About Ikaria:
Ikaria is a Greek island in the Aegean Sea, sitting approximately one hundred kilometres from the west coast of Turkey.

Life on Ikaria is so peaceful, it's enlisted as one of five 'blue zones' in the world, a place where people live significantly longer than average. This is thanks to the island's isolated location, Mediterranean cuisine and beautiful landscapes comprising vast mountains, forested gorges and secluded beaches.

Named after Icarus, the legendary architect who flew too close to the sun, and the supposed birthplace of Dionysus, god of wine, Ikaria is one of the most magical and fascinating Greek islands, too.

Given the amount of islands in the Aegean Sea, there are many ferry routes to Ikaria departing from a great number of destinations including the surrounding Greek archipelagos and the mainland.