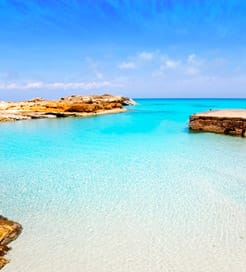 Compare ferries from Formentera to Ibiza
There are numerous ferry crossings operating from Formentera to Ibiza. Ferries currently connect 1 Ports in Formentera with 5 Ports in Ibiza.

There are a combined number of 67 ferry crossings each day across a selection of 5 ferry routes which are operated by 6 ferry companies including Balearia, Trasmapi, Aquabus, Mediterranea Pitiusa, Trasmapi Car & FRS Iberia with the shortest crossing taking around 0 hour 8 minute (Ibiza).

This is a general summary of the services on offer between Formentera and Ibiza, for live information select from our Fare Search.
Formentera Ibiza Ferry Map
Ferries from Formentera to Ibiza
About Formentera:
Formentera is the smaller and more southerly of the Balearic Islands of Spain.

With a population of only seven thousand and no airport, Formentera is usually quieter than its sister island Ibiza, though like most Mediterranean islands, large amounts of visitors arrive during the peak season of July and August.

Formentera is known for its pristine white sand beaches and crystal clear water, and is perfect for those looking for a relaxing break of sun and sand.

In terms of travelling from Formentera by ferry, Ibiza, just six kilometres to the north is where the majority of ferries travel to with sailings running year round and up to every thirty minutes during peak times.

You can however also sail to mainland Spain, port of Denia which takes around three hours. The Formentera Denia crossing is seasonal and general runs between May and October. For those who want to travel to mainland Spain out of season you can pick up a connection from Ibiza.
About Ibiza:
Spain is a beautiful and diverse country located in the south west of Europe. As a country well known for its beaches, the geographical and cultural diversity in Spain often comes across as a surprise to its visitors.

This exotic country really has it all, from lush meadows, green valleys and hills to snowy mountains and almost desert zones in the South. No wonder Spain ranks the third most visited European country.

In terms of getting to Spain by ferry, with the North, East and South sides of the country facing the Sea, there's no shortage of options. From the UK, there are regular scheduled crossings available and though the crossings on offer are long, the ships are cruise like in standard which makes for an extremely pleasant trip. The same applies to the connection across the Mediterranean Sea from Italy.

From the North African coast, you can depart from Morocco, Melilla and Algeria. The services from Morocco in particular are very popular with many companies operating the connection across the strait of Gibraltar.

The Balearic and Canary Islands provide numerous connections to the mainland.