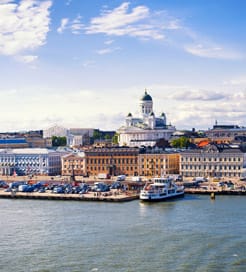 Compare ferries from Finland to Aland
There are 4 ferry routes operating between Finland and Aland offering you combined total of 58 sailings per week. Tallink Silja operates 3 routes, Turku to Langnas runs 7 times per week, Helsinki to Mariehamn about 7 times weekly & Turku to Mariehamn about 7 times weekly. Viking Line operates 3 routes, Turku to Langnas runs 7 times per week, Helsinki to Mariehamn about 3 times weekly & Turku to Mariehamn about 13 times weekly. Finnlines operates 1 route, Naantali to Langnas which runs 14 times weekly.

As the frequency and duration of crossings on some routes varies we would advise that you do a live search for crossings from Finland to Aland to get the most up to date information.
Ferries from Finland to Aland
About Finland:
Finland is a Nordic country in northeast Europe, famous for white summer nights and countless pristine lakes.

It offers amazing landscapes year-round, with many activities to suit every season. There are excellent ski resorts, bustling cities and incredible festivals throughout the summer months. The night skies are blessed with spectacular displays of the Northern Lights, too, making it one of Europe's most popular countries.

Finally, after a day of exploring the coniferous forests and drinking in the crisp Finnish air, why not relax in one of the nation's estimated two million saunas?

Travelling by ferry is a popular mode of transport in Finland, as there are numerous routes operated by excellent ferry companies with luxurious vessels. The Finnish ports are good departure points for the surrounding Scandinavian nations and mainland Europe, so there's no shortage of sailing options.
About Aland:
Aland Islands (or Åland) are a Swedish speaking autonomous region in Finland located in the heart of Scandinavia between the cities of Stockholm and Helsinki in the Baltic Sea.

With some 6700 islands, Aland boasts an exciting mix of Swedish, Finnish and Russian culture. Around 90% of the population resides on the main island or 'Fasta Åland' as it known locally. The main city is Mariehamn, while other small communities on the main island include Godby and Eckerö.

Whilst you can fly to Aland from Finland and Sweden, many visitors prefer to travel by ferry as it allows you to take in the awesome views of Sweden's, Finland's and Aland's archipelagos. The ferries used on these crossings are among the most luxurious in operation so the journey is actually more like a cruise than a means of transportation from A to B.