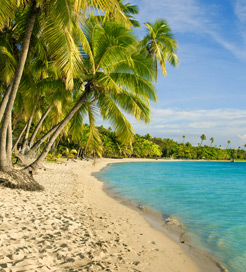 Compare ferries from Fiji to Mamanuca Islands
There is no shortage of options to choose from when it comes to selecting a ferry from Fiji to Mamanuca Islands. There are 2 ferry companies with a combined offering of 12 Ferry Routes connecting Denarau to Treasure Island.

The fastest route between Fiji and Mamanuca Islands is Denarau to Bounty Island with a crossing duration of around 35 minutes. With so many routes on offer we make it simple by comparing all similar routes in one search so you can quickly find what you are looking for.
Fiji Mamanuca Islands Ferry Map
Ferries from Fiji to Mamanuca Islands
About Fiji:
Fiji is an archipelago in the South Pacific Ocean comprising roughly 330 islands, of which only a third are inhabited.

A leader in eco-tourism and home to an endless amount of picture-postcard beaches and vibrantly coloured coral reefs, Fiji is beautiful both on land and beneath the waves. It's also regarded as the 'soft coral capital of the world', offering some of the finest diving locations in the Pacific.

Fiji has a huge variety of choice when it comes to finding your perfect setting, the Mamanuca and Yasawa Islands scattered across the main island's northwest coast offer everything from a buzzing nightlife to spectacular scenic walks. On the other hand, Viti Levu's energetic, multicultural towns and markets offer a break from those lazy afternoons at the beach.

Given the amount of islands and islets in Fiji, there is an enormous choice of sailings departing from Denarau on Viti Levu's west coast. With many routes provided numerous times a day, travelling by ferry is by far the easiest way to get around this tropical paradise.
About Mamanuca Islands:
The twenty Mamanuca Islands are some of Fiji's most precious gems, stretched along the west coast of Viti Levu, the nation's mainland.

Famously beautiful landscapes encompass this volcanic archipelago; the Hollywood film 'Castaway' and hit TV show 'Survivor: Fiji' were shot here, with their palm-fringed beaches and emerald hills worthy of any holiday brochure. However, offering much more than just gorgeous scenery, the Mamanucas are a place for surfers to ride world class breaks, snorkelers delve into dazzling coral reef and partygoers sample some exuberant, beachfront nightlife. You can also choose from an extensive range of top-quality accommodation, suited to all budgets and tastes.

Ferries offer the best way of getting around Fiji, and reaching the Mamanuca Islands is no different. To nearly every island in the archipelago, there are numerous routes every day from Denarau on the Fijian mainland, operated by reputable ferry companies.