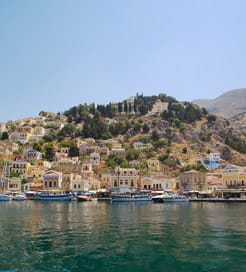 Compare ferries from Dodecanese Islands to Ikaria
There are numerous ferry crossings operating from Dodecanese Islands to Ikaria. Ferries currently connect 10 ports in Dodecanese Islands with 1 port in Ikaria.

There are a combined number of 26 ferry crossings each week across a selection of 10 Ferry Routes which are operated by 2 ferry companies including Dodekanisos Seaways & Hellenic Seaways with the shortest crossing taking around 55 minutes (Patmos to Agios Kirikos).

This is a general summary of the services on offer between Dodecanese Islands and Ikaria, for live information select from our Fare Search.
Dodecanese Islands Ikaria Ferry Map
Ferries from Dodecanese Islands to Ikaria
About Dodecanese Islands:
The twelve Dodecanese Islands lie in the southeast corner of the Aegean Sea, boasting one of the sunniest climates in Greece.

As diverse as they are beautiful, the Dodecanese are the complete Greek package offering a wide range of attractions including stunning beaches, exquisite food, historic wonders and architectural masterpieces.

The most visited and popular island, Rhodes is rich with medieval history and offers the perfect setting for romantic strolls in its famed Old Town. Thrilling activities come in abundance on the Dodecanese, too, particularly on Telendos, where you can scuba-dive through an ancient sunken city.

The Dodecanese Islands offer plenty of great departure points for numerous European destinations, as well as frequent routes within the islands themselves. Due to the quantity of islands in this region, travelling by ferry is by far the most convenient way to get around.
About Ikaria:
Ikaria is a Greek island in the Aegean Sea, sitting approximately one hundred kilometres from the west coast of Turkey.

Life on Ikaria is so peaceful, it's enlisted as one of five 'blue zones' in the world, a place where people live significantly longer than average. This is thanks to the island's isolated location, Mediterranean cuisine and beautiful landscapes comprising vast mountains, forested gorges and secluded beaches.

Named after Icarus, the legendary architect who flew too close to the sun, and the supposed birthplace of Dionysus, god of wine, Ikaria is one of the most magical and fascinating Greek islands, too.

Given the amount of islands in the Aegean Sea, there are many ferry routes to Ikaria departing from a great number of destinations including the surrounding Greek archipelagos and the mainland.