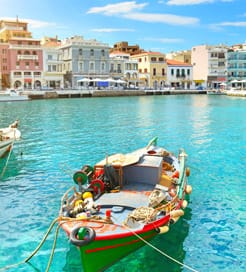 Compare ferries from Crete to Athens
There are 4 ferry routes operating between Crete and Athens offering you combined total of 40 sailings per week. Minoan Lines operates 1 route, Heraklion to Piraeus which runs 11 times weekly. Anek Lines operates 1 route, Sitia to Piraeus which runs 1 time weekly. Anek Superfast operates 2 routes, Heraklion to Piraeus runs 11 times per week & Chania to Piraeus about 12 times weekly. Golden Star Ferries operates 1 route, Heraklion to Rafina which runs 5 times weekly.

As the frequency and duration of crossings on some routes varies we would advise that you do a live search for crossings from Crete to Athens to get the most up to date information.
Ferries from Crete to Athens
About Crete:
Crete is the largest island in Greece situated in the southern Aegean Sea, boasting a wealth of gorgeous harbours, beaches and hilltop towns.

Not only is the natural landscape filled with stunning backdrops, the wonderfully unique culture, cuisine and history are inescapable too.

You'll come across awe-inspiring palaces, Renaissance buildings and picturesque Venetian ruins. Or you may spot some locals performing Cretan dances and playing music using stringed instruments called lyres and laoutos, offering a Greek island experience like no other.

Crete has a number of excellent ferry ports along its north coast, and, thanks to its location in the southern Aegean, offers numerous routes to the other Greek islands and Athens to the north. This makes Crete an excellent departure point for exploring both the country's mainland and many beautiful islands.