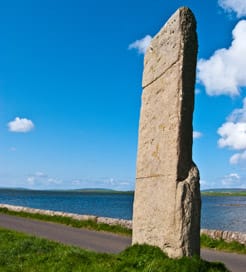 Compare ferries from Orkney Islands to Shetland Islands
There is currently just the 1 ferry route running between Orkney Islands and Shetland Islands operated by 1 ferry company – Northlink Ferries. The Kirkwall to Lerwick ferry crossing operates weekly with a scheduled sailing duration from about 7 hours 45 minutes.

Whilst we've taken great care to ensure the information on this page is correct, as the frequency and duration of crossings on all routes can vary from time to time we'd advise that you get a live quote for current availability on this Orkney Islands Shetland Islands crossing between Kirkwall and Lerwick.
Orkney Islands Shetland Islands Ferry Map
Ferries from Orkney Islands to Shetland Islands
About Orkney Islands:
The Orkney Islands are an archipelago of approximately 70 islands in Northern Scotland, around 10 miles off the North coast of Scotland.

The largest island in the archipelago is known as the "mainland" and houses the majority of the population and many arts and crafts trails and attractions.

The Orkney Islands combines its beautiful beaches with rich heritage, culture and wonderful wildlife, bring people a distinct and magical experience.
About Shetland Islands:
The Shetland Islands are an archipelago in Scotland around 100 miles North of the Scottish mainland. The archipelago is composed of over a hundred islands, out of which only fifteen are inhabited.

Shetland is a great place for nature lovers, offering a natural world where wildlife is truly wild, making it possible to watch otters and seals at play while hearing the sound of seabirds crowding the cliffs. Its 6000 years of history also brings a truly unique culture to the Shetland Islands.