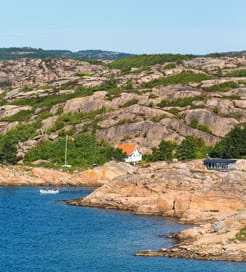 Compare ferries from Sweden to Poland
There are numerous ferry crossings operating from Sweden to Poland. Ferries currently connect 4 Ports in Sweden with 3 Ports in Poland.

There are a combined number of 3 ferry crossings each day across a selection of 4 ferry routes which are operated by 4 ferry companies including Stena Line, Polferries, Unity Line & TT Line with the shortest crossing taking around 5 hour 45 minute (Swinoujscie).

This is a general summary of the services on offer between Sweden and Poland, for live information select from our Fare Search.
Ferries from Sweden to Poland
About Sweden:
Sweden is the largest Nordic country in northern Europe, bordered by Norway to the west and Finland to the east.

A country famed for its stunning landscape, Sweden also has a fast-paced capital in Stockholm, spread across 14 islands connected by 57 bridges, which brings with it a world-leading fashion scene and an immersive historic district.

Further north, you'll find untouched wilderness blanketed by snow, with dramatic mountains in the skyline, dense forest and countless reindeer in front of you and the mesmerising Northern Lights shining above. There are also plenty of beautiful islands and archipelagos dotted in the Baltic Sea.

Sweden is an excellent departure point for a large number of destinations in Scandinavia and northern mainland Europe. With numerous ferry ports on the country's long coast, operated by leading ferry companies, travelling by ferry is the most convenient way to explore Sweden's islands and neighbouring countries.
About Poland:
Poland is a large nation in Central Europe, with a long coastline on the Baltic Sea to the north and the Carpathian Mountains in the south.

Sandwiched between Germany and the former Soviet Union, Poland endured a turbulent early to mid-twentieth century. But, today it stands as a beacon of post-communist European success and a proud nation with a rich Jewish heritage. A millennia-old history is apparent throughout every city, from the medieval fortresses in Gdansk, to Gothic structures in Krakow and World War II memorials in Warsaw. However, outside the sprawling cities lie unspoiled swathes of countryside, lakes, rivers and low-lying mountain passes, ideal for spontaneous long walks and organised hikes.

Ferries cross the Baltic Sea from numerous locations on the south coast of Sweden, with a wealth of excellent ferry operators providing frequent crossings to multiple Polish ports.