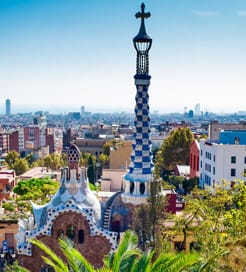 Compare ferries from Spain to Menorca
There are numerous ferry crossings operating from Spain to Menorca. Ferries currently connect 2 ports in Spain with 2 ports in Menorca.

There are a combined number of 98 ferry crossings each week across a selection of 7 Ferry Routes which are operated by 6 ferry companies including Corsica Ferries, Balearia, Trasmediterranea, Grandi Navi Veloci, FRS Iberia & Trasmed GLE with the shortest crossing taking around 1 hour (Alcudia to Ciutadella).

This is a general summary of the services on offer between Spain and Menorca, for live information select from our Fare Search.
Ferries from Spain to Menorca
About Spain:
Spain is a country located on the Iberian Peninsula and bordered by Portugal to the west, France to the north-east and the Mediterranean Sea to the South and East.

The marvellous weather in Spain, its geographic location, beautiful coastlines and varied landscapes have made Spain one of the most popular holiday destinations in the world.

Its capital city Madrid features winding streets all heading to gather in the centre of the city, Barcelona needs no introduction, the Basque country is to the North and then of course there's the sunbathers mecca – the Costa del Sol.

As a country with thousands of miles of coast and numerous island groups such as the Canaries and Balearic's, travelling by ferry is deeply rooted into Spanish culture. Europe's most modern ferries and well-known ferry companies are in operation providing services from Spain to the UK, Italy and North Africa as well as crossing from the mainland to the Canary Islands, the Balearic Islands and numerous inter island connections.
About Menorca:
Menorca, the unsung hero of the Spanish Balearics, is the second largest island of the archipelago, found just northeast of Mallorca.

Contrasting with the high-intensity, ever popular Ibiza and Mallorca, the easternmost island of Menorca offers total tranquillity with exquisite scenery and more beaches than the other two combined. The pristine appearance of Menorca is, mostly, thanks to its biosphere reserve classification by UNESCO in 1993, so it makes a wonderful island getaway for couples and families.

Aside from the usual fun-in-the-sun frolics like sailing, snorkelling and swimming, Menorca has its fair share of prehistoric monuments and wonderful castles as well. Some of the highlights include La Mola Fortress, a nineteenth century structure set over Mao harbour, and an extraordinary megalithic chamber tomb called Naveta d'es Tudons, just east of Ciutadella de Menorca.

With regular ferry crossings from Mallorca and a couple of cities on mainland Spain, sailing to Menorca is quick and easy. It has ports on its western and eastern coasts, which are served by range of excellent ferry operators.