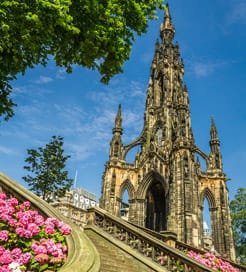 Compare ferries from Scotland to Outer Hebrides
There is no shortage of options to choose from when it comes to selecting a ferry from Scotland to Outer Hebrides. There are 1 ferry company with a combined offering of 12 Ferry Routes connecting Oban to Castlebay & Lochboisdale, Ardmhor to Eriskay, Berneray to Leverburgh, Mallaig to Lochboisdale, Oban to Castlebay & Lochboisdale, Uig to Lochmaddy & Tarbert (Harris), Ullapool to Stornoway, Eriskay to Ardmhor, Leverburgh to Berneray, Tarbert (Loch Fyne) to Lochmaddy & Lochmaddy to Tarbert (Loch Fyne).

The fastest route between Scotland and Outer Hebrides is Ardmhor to Eriskay with a crossing duration of around 40 minutes. With so many routes on offer we make it simple by comparing all similar routes in one search so you can quickly find what you are looking for.
Scotland Outer Hebrides Ferry Map
Ferries from Scotland to Outer Hebrides
About Scotland:
Scotland is the northernmost country in the United Kingdom, occupying the Northern third of the land, sharing a border with England to the South.

Scotland is a beautiful country well-known for its dramatic scenery of mountains and rugged coastlines, with the natural scenes of the Highlands as a top winner.

The Scottish climate tends to be very changeable, but even though the sun might not always shine, the warm welcome from the wonderful diversity of landscapes attracts many visitors.

If you're heading away from Scotland by ferry then Northern Ireland is easily accessible with a choice of routes and ferry companies. Travelling from the Scottish mainland to the Orkney, Shetland or any of the destinations off Scotland's west coast is more convenient than ever before and you'll get to take in some of the most spectacular coastlines and landscapes in the UK while you sail too.

The direct route to the continent is no longer available, but there are numerous routes from Northern England to use instead.