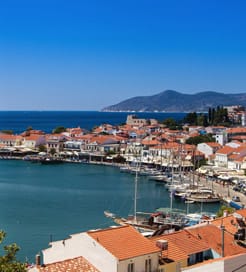 Compare ferries from Samos to Cyclades Islands
There are 4 ferry routes operating between Samos and Cyclades Islands offering you combined total of 10 sailings per week. Hellenic Seaways operates 4 routes, Karlovassi to Mykonos runs 4 times per week, Karlovassi to Syros about 3 times weekly, Vathi to Mykonos about 2 times weekly & Vathi to Syros about 1 time weekly.

As the frequency and duration of crossings on some routes varies we would advise that you do a live search for crossings from Samos to Cyclades Islands to get the most up to date information.
Samos Cyclades Islands Ferry Map
Ferries from Samos to Cyclades Islands
About Samos:
Samos is a Greek island in the eastern Aegean Sea, lying just off the west coast of Turkey.

Samos was a particularly rich and powerful city-state in ancient Greece, renowned for its top quality vineyards and for being the birthplace of the famous mathematician, Pythagoras.

Nowadays, it's regarded as one of the most beautiful islands in the Aegean, boasting pure white sandy beaches, picturesque villages and charming fishing harbours. It is also known for producing excellent sweet Muscat wines.

It has a number of fascinating landmarks, too, including the largest temple in the country in the town of Heraion. Another highlight is the Eupalinos aqueduct, an amazing feat of ancient Greek engineering; a tunnel reaching over 1,000 metres long with only a few feet open to the public.

Thanks to the island's location in the Aegean Sea, Samos is a useful departure point for a great number of destinations. It has a few ports along its coastline where you can sail to other Greek islands and the mainland.
About Cyclades Islands:
The Cyclades are an archipelago in Greece, southeast of the mainland in the Aegean Sea, containing just thirty three inhabited islands from a total of two hundred and twenty.

Quintessentially Greek, this is arguably the best selection of islands in the Aegean. Standing out from the crowd are Mykonos and Santorini, earning international stardom with their white-washed villages, glistening waters, rugged coastlines and jumping nightlife. Uninhabited, the centrally located Delos is the supposed birthplace of Apollo, boasting intricate mosaics and breath-taking monuments of antiquity. They offer everything you would expect from this beautiful part of the world; so depending on where you step off the ferry, you can hike glorious trails, relax on fine beaches or indulge in fresh, classic Greek dishes.

The demand for ferries in Greece is incredibly high, resulting in top-quality services and frequent sailings to and from many destinations. The Cyclades are no different, with regular ferry routes from numerous islands, within the archipelago, and from ports on the mainland, including Piraeus in Athens.