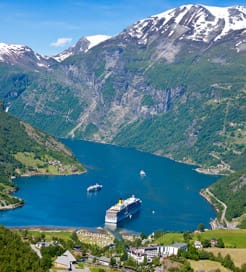 Compare ferries from Norway to Denmark
There are numerous ferry crossings operating from Norway to Denmark. Ferries currently connect 6 ports in Norway with 3 ports in Denmark.

There are a combined number of 83 ferry crossings each week across a selection of 7 Ferry Routes which are operated by 3 ferry companies including Fjord Line, DFDS Seaways & Color Line with the shortest crossing taking around 2 hours 15 minutes (Kristiansand to Hirtshals).

This is a general summary of the services on offer between Norway and Denmark, for live information select from our Fare Search.
Ferries from Norway to Denmark
About Norway:
Norway is the westernmost of the three Scandinavian countries, encompassing the island of Jan Mayen and the Svalbard archipelago to the northwest.

Best known for its deep and complex network of fjords along the west coast stretching from the North Sea into the Arctic Ocean, Norway is widely regarded as one of the most beautiful countries in the world. Mountains plunging into the sea, the midnight sun during summer and the darkness of winter with the northern lights unfolding above you are all just part of the amazing natural attractions.

The capital, Oslo is a city of grand museums and art galleries to rival anywhere on the continent. As well as the innovative architecture, you'll find upmarket restaurants and trendy cafes where you can relax after a long day of exploring Norway's many landscapes.

In Scandinavia, travelling by ferry is a popular mode of transport given the quantity of islands. Norway has a large number of ports on its southern coast, offering numerous routes to both international and domestic destinations.
About Denmark:
Denmark is a Scandinavian country in Europe, directly south of Norway, bordering northern Germany.

Home to Renaissance castles, a riveting Viking history and highly-rated standards of living, Denmark offers a wealth of unforgettable experiences. It's also widely regarded as one of the most liveable and happiest nations in the world thanks to its progressive politics, spellbinding landscapes and mix of contemporary and traditional architecture.

Innovative Nordic cuisine has flourished in the capital of Copenhagen, with the restaurant 'Noma' voted the best in the world in 2014. Or you can take your pick from the 14 other Michelin-starred establishments scattered throughout the city.

There are plenty of ferry routes to Denmark from the surrounding Scandinavian countries and within the country itself. With numerous ports spread across the Danish peninsulas and islands, travelling by ferry is a convenient way to reach this Nordic nation.