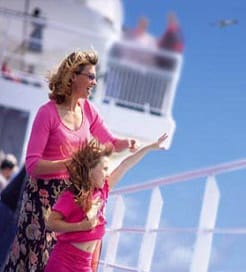 Compare ferries from Naviti Island to Fiji
There are 3 ferry routes operating between Naviti Island and Fiji offering you combined total of 21 sailings per week. Awesome Adventures Fiji operates 3 routes, Botaira Beach Resort to Denarau runs 7 times per day, Korovou Eco Tour Resort to Denarau runs 7 times per day, & White Sandy Beach to Denarau which runs 7 times daily.

As the frequency and duration of crossings on some routes varies we would advise that you do a live search for crossings from Naviti Island to Fiji to get the most up to date information.
Naviti Island Fiji Ferry Map
Ferries from Naviti Island to Fiji
About Naviti Island:
Naviti is a volcanic island in the Yasawa Group, situated within the Western Division of Fiji in the South Pacific Ocean.

Measuring 34-square-kilometres and reaching 388 metres at its highest point, Naviti is a playground for explorers, with its hilly landscape covered with dense tropical forest and mangrove trees. The beaches are superb, too, offering long stretches of pristine white sand and bright blue waters filled with coral reefs, colourful fish and an abundance of manta rays.

All of the villages are connected by a series of walking trails, so there are plenty of excellent hiking opportunities allowing you to interact with the various communities and admire the locally produced crafts.

Given the amount of islands in Fiji, travelling by ferry is a popular and convenient way to get around. From a few resorts on Naviti's west coast, there are frequent sailings provided to Denarau on Viti Levu to the south.