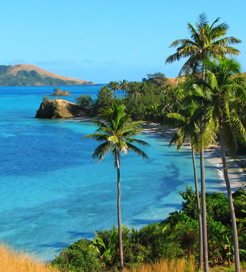 Compare ferries from Nacula Island to Fiji
There are 3 ferry routes operating between Nacula Island and Fiji offering you combined total of 21 sailings per week. Awesome Adventures Fiji operates 3 routes, Oarsman Bay Lodge to Denarau runs 7 times per day, Blue Lagoon Beach Resort to Denarau runs 7 times per day, & Nabua Lodge to Denarau which runs 7 times daily.

As the frequency and duration of crossings on some routes varies we would advise that you do a live search for crossings from Nacula Island to Fiji to get the most up to date information.
Nacula Island Fiji Ferry Map
Ferries from Nacula Island to Fiji
About Nacula Island:
Nacula is the third largest of the Yasawa Islands to the northwest of Viti Levu, Fiji in the Pacific Ocean.

Boasting some of the finest beaches, snorkelling sites and swimming conditions in Fiji, Nacula is a must see for any visitors to the South Pacific. Its landscape is ruggedly beautiful, with volcanic hills and lush forests covering the inland.

Besides gorgeous beaches and crystal clear lagoons, Nacula offers an impressive network of hiking trails. One of the most popular routes takes you above Nabua Lodge on the south coast which rewards you with superb panoramic views after a 2-3 hour hike.

Nacula Island has a few ports on the south coast, offering frequent sailings to the resort town of Denarau on the Fijian mainland, so there's no shortage of sailing options from Nacula.