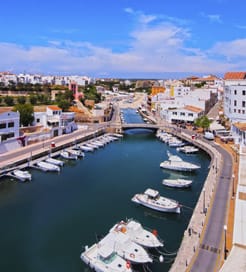 Compare ferries from Menorca to Spain
There are numerous ferry crossings operating from Menorca to Spain. Ferries currently connect 2 ports in Menorca with 2 ports in Spain.

There are a combined number of 94 ferry crossings each week across a selection of 6 Ferry Routes which are operated by 6 ferry companies including Corsica Ferries, Balearia, Trasmediterranea, Grandi Navi Veloci, FRS Iberia & Trasmed GLE with the shortest crossing taking around 1 hour (Ciutadella to Alcudia).

This is a general summary of the services on offer between Menorca and Spain, for live information select from our Fare Search.
Ferries from Menorca to Spain
About Menorca:
Menorca is the second largest of the Balearic Islands in the Mediterranean Sea, east of mainland Spain.

It is the least commercially overrun and most tranquil of the Balearics, acquiring UNESCO Biosphere Reserve status in 1993. However, despite its small size, it has the same number of beaches as Mallorca and Ibiza combined, numerous Bronze Age sites and lush wetland areas, making it arguably the most attractive of the archipelago.

Its capital, Mahon sits on the east coast, boasting gorgeous 18th Century architecture, a Gothic cathedral, plenty of shops and superb restaurants.

The Balearics are very well served by ferry and Menorca has a couple of ports offering numerous routes to Mallorca and mainland Spain. With ports in the capital and Ciutadella De Menorca on the west coast, Menorca is a useful gateway to some of the country's top destinations.
About Spain:
Spain is a beautiful and diverse country located in the south west of Europe. As a country well known for its beaches, the geographical and cultural diversity in Spain often comes across as a surprise to its visitors.

This exotic country really has it all, from lush meadows, green valleys and hills to snowy mountains and almost desert zones in the South. No wonder Spain ranks the third most visited European country.

In terms of getting to Spain by ferry, with the North, East and South sides of the country facing the Sea, there's no shortage of options. From the UK, there are regular scheduled crossings available and though the crossings on offer are long, the ships are cruise like in standard which makes for an extremely pleasant trip. The same applies to the connection across the Mediterranean Sea from Italy.

From the North African coast, you can depart from Morocco, Melilla and Algeria. The services from Morocco in particular are very popular with many companies operating the connection across the strait of Gibraltar.

The Balearic and Canary Islands provide numerous connections to the mainland.