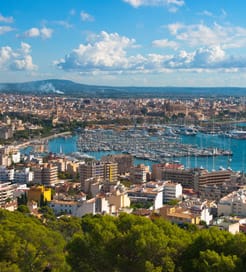 Compare ferries from Mallorca to Menorca
There are 4 ferry routes operating between Mallorca and Menorca offering you combined total of 56 sailings per week. Corsica Ferries operates 1 route, Alcudia to Ciutadella which runs 1 time weekly. Balearia operates 1 route, Alcudia to Ciutadella which runs 3 times daily. Trasmediterranea operates 1 route, Alcudia to Mahon which runs 5 times weekly. Grandi Navi Veloci operates 1 route, Palma to Ciutadella which runs 3 times weekly. FRS Iberia operates 1 route, Alcudia to Ciutadella which runs 3 times daily. Trasmed GLE operates 2 routes, Alcudia to Mahon runs 4 times per week & Palma to Mahon about 1 time weekly.

As the frequency and duration of crossings on some routes varies we would advise that you do a live search for crossings from Mallorca to Menorca to get the most up to date information.
Mallorca Menorca Ferry Map
Ferries from Mallorca to Menorca
About Mallorca:
Mallorca is the largest island of the Balearics found off the east coast of Spain.

The island's capital, La Palma is the heart of the archipelago, boasting a rich history, blossoming food scene and stunning architecture, most notably the namesake hilltop cathedral.

Mallorca is also blessed with superb beaches to suit all types of holidaymaker, whether you're into exciting water-sports or simply catching rays whilst immersed in a novel. The stunning coastline is well worth exploring too, particularly by bike, as the smooth, winding roads offer unbeatable sea views.

Mallorca has two excellent ferry ports, one in the capital and the other in Alcudia on the northeast coast. With frequent routes to the other Balearic Islands and the Spanish mainland, Mallorca is a useful gateway to some of the country's most popular holiday destinations.
About Menorca:
Menorca, the unsung hero of the Spanish Balearics, is the second largest island of the archipelago, found just northeast of Mallorca.

Contrasting with the high-intensity, ever popular Ibiza and Mallorca, the easternmost island of Menorca offers total tranquillity with exquisite scenery and more beaches than the other two combined. The pristine appearance of Menorca is, mostly, thanks to its biosphere reserve classification by UNESCO in 1993, so it makes a wonderful island getaway for couples and families.

Aside from the usual fun-in-the-sun frolics like sailing, snorkelling and swimming, Menorca has its fair share of prehistoric monuments and wonderful castles as well. Some of the highlights include La Mola Fortress, a nineteenth century structure set over Mao harbour, and an extraordinary megalithic chamber tomb called Naveta d'es Tudons, just east of Ciutadella de Menorca.

With regular ferry crossings from Mallorca and a couple of cities on mainland Spain, sailing to Menorca is quick and easy. It has ports on its western and eastern coasts, which are served by range of excellent ferry operators.