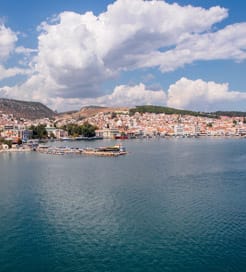 Compare ferries from Lesbos to Aegean Islands
There are numerous ferry crossings operating from Lesbos to Aegean Islands. Ferries currently connect 1 port in Lesbos with 4 ports in Aegean Islands.

There are a combined number of 19 ferry crossings each week across a selection of 7 Ferry Routes which are operated by 1 ferry company including Hellenic Seaways with the shortest crossing taking around 2 hours 50 minutes (Mytilene to Chios).

This is a general summary of the services on offer between Lesbos and Aegean Islands, for live information select from our Fare Search.
Lesbos Aegean Islands Ferry Map
Ferries from Lesbos to Aegean Islands
About Lesbos:
Lesbos is the third largest Greek island located in the north-eastern Aegean Sea, boasting one of the sunniest climates in the country.

Its landscape is both diverse and beautiful, compacted with unspoilt beaches, fossilised forests and archaeological monuments. However, the most attractive feature of Lesbos is the absence of mass tourism, unlike some other Greek islands, making it one of the country's more peaceful holiday destinations.

Given the tranquillity, a trip to Lesbos gives visitors a chance to gain a true Greek experience by enjoying the authentic cuisine and relaxing on the long stretches of untouched coastline.

As the Aegean Sea is home to a large number of islands, there are plenty of ferry routes from Lesbos on offer. From the port town of Mytilini on the southeast coast, you can sail to numerous islands and the Greek mainland.
About Aegean Islands:
The Aegean Islands are a group of islands in the Aegean Sea, most of which belong to Greece with the remainder belonging to Turkey.

Located between the south and east side of the Greek mainland and to the west of Turkey, the Aegean Islands consist of seven groups, namely the north eastern Aegean Islands, Sporades, Euboea, Argosaronic Islands, Cyclades, Dodecanese and Crete.

Islands in the Aegean Sea feature crystal blue waters, hot springs, fortress villages, rich history, delicious seafood and some of the most beautiful beaches in Greece. The Aegean Islands will no doubt offer those who visit the region a memorable and authentic experience.

Like most island groups, travelling by ferry is the most popular and in many cases the only way to get in and to travel around and the region is served by numerous ferry companies connecting the vast number of ports.