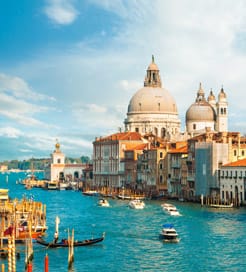 Compare ferries from Italy to Albania
There are numerous ferry crossings operating from Italy to Albania. Ferries currently connect 4 ports in Italy with 3 ports in Albania.

There are a combined number of 36 ferry crossings each week across a selection of 5 Ferry Routes which are operated by 6 ferry companies including Grandi Navi Veloci, Adria Ferries, Ventouris Ferries, Red Star Ferries, European Ferries & A-Ships Management S.A with the shortest crossing taking around 5 hours 30 minutes (Brindisi to Vlora).

This is a general summary of the services on offer between Italy and Albania, for live information select from our Fare Search.
Ferries from Italy to Albania
About Italy:
Italy is home to the greatest number of UNESCO World Heritage Sites in the world. Together with Greece, it is known as the birthplace of Western culture.

Full of high art and monuments, almost every small village in Italy offers a few interesting locations. From the Roman ruins, Byzantine cities and Renaissance masterpieces to cobblestone streets, beautiful churches and wide variety of stunning beaches, Italy is a place that provides rare experiences that can never be overrated.

Italy is the ideal departure country for those travelling by ferry with numerous amazing destinations, many of them domestic on offer. With so many miles of coastline and famous islands to choose from, the list of destinations is truly unrivalled. In terms of international travel, Italy is connected to almost all of the countries in the Adriatic Sea as well as featuring numerous links to Greece, Tunisia and Spain.

The short island crossings are usually made with small passenger vessels while the longer international journeys are operated by luxurious cruise ferries.
About Albania:
Albania is a small country in south-eastern Europe, approximately 72 km from Italy across the Strait of Otranto.

Having recently recuperated from a difficult communist regime, Albania has since become a highly desirable holiday spot thanks to its striking mountain scenery, fascinating archaeological sites and beautiful beaches.

The capital, Tirana is a vibrant city with brightly coloured buildings and picturesque plazas fringed by trees and mountains. One of the oldest cities in the country, Berat has recently joined the UNESCO World Heritage Site list for its Ottoman architecture and intact castle, so there's plenty of appealing cultural sights.

The Albanian coastline stretches from the Adriatic to the Ionian Sea, so the country is well accessible from both northern and southern Italian ports. There are numerous ferry companies offering overnight sailings, so it might be worth booking a more comfortable cabin.