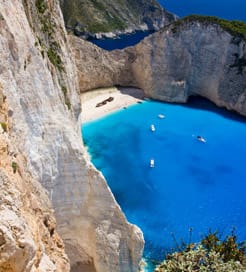 Compare ferries from Ionian Islands to Greece
There are numerous ferry crossings operating from Ionian Islands to Greece. Ferries currently connect 1 port in Ionian Islands with 2 ports in Greece.

There are a combined number of 91 ferry crossings each week across a selection of 6 Ferry Routes which are operated by 1 ferry company including Levante Ferries with the shortest crossing taking around 20 minutes (Sami to Ithaka (Pisaetos)).

This is a general summary of the services on offer between Ionian Islands and Greece, for live information select from our Fare Search.
Ionian Islands Greece Ferry Map
Ferries from Ionian Islands to Greece
About Ionian Islands:
The Ionians comprise seven Greek islands named Zakynthos, Ithaca, Corfu, Kefalonia, Lefkada, Paxi and Kythira scattered along the mainland's west and south coasts.

With each island offering a distinct character, they're a fantastic holiday destination for any kind of traveller. Some boast stunning Parisian-style architecture and blossoming food scenes, whilst others claim some of the country's finest beaches and tallest mountains.

The Ionian Islands offer excellent diving and snorkelling opportunities too, as plenty of colourful fish and sea turtles can be seen beneath the turquoise waves. Also, superb museums and stunning palaces await inland, where you can learn all about the islands' fascinating cultural history, so there's plenty to see and do.

There is no shortage of sailing options from the Ionians as there are numerous routes available to both international and domestic destinations. With a wide range of ferry companies to choose from, it couldn't be easier to sail from these beautiful Greek islands.
About Greece:
Greece is one of the world's most visited countries. With the Aegean Sea to the East of the mainland, the Ionian Sea to the West, the Mediterranean Sea to the South and a vast number of islands, Greece boasts some 16,000 kilometres of coastline.

Greece is a country rich with diversity, from its mountainous mainland to the stunning islands with their whitewashed houses and blue-domed churches. Many of the Greek beaches have been awarded the Blue Flag, while the country's rich history and legacy has left it with 18 UNESCO World Heritage Sites.

The Greek mainland is easily reached by ferry across the Adriatic Sea from Italy while domestically, due to the sheer number of islands, there are many ferry companies and a range of services on offer. The majority of the domestic ferries are modern, though the class of ferry differs based on the journey type. The longer routes are served by conventional passenger ferries, while the shorter inter island routes are served by high speed catamarans and hydrofoils.