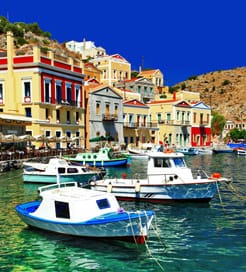 Compare ferries from Greece to Kefalonia
There are 3 ferry routes operating between Greece and Kefalonia offering you combined total of 34 sailings per week. Levante Ferries operates 3 routes, Patras to Sami runs 3 times per week, Ithaka (Pisaetos) to Sami about 3 times weekly & Kyllini to Poros (Kefalonia) about 4 times daily.

As the frequency and duration of crossings on some routes varies we would advise that you do a live search for crossings from Greece to Kefalonia to get the most up to date information.
Greece Kefalonia Ferry Map
Ferries from Greece to Kefalonia
About Greece:
Greece is a country in Southern Europe with the 11th longest coastline in the world, sharing borders with Albania, Macedonia, Bulgaria and Turkey, and with islands in the Aegean, Ionian and Mediterranean Seas.

As one of the world's most popular tourist destinations, the country's fabulous beaches, whitewashed homes, historical sites and favourable climate attract huge numbers of visitors to its islands year round, though the majority arrive between April and October.

Whether you arrive on the mainland by sea or by air, the majority of islands can only be reached by ferry. With the number of services on offer, as you may expect, Greek ferries are of a high standard and most ferry companies feature a modern and luxurious fleet. All Greek islands are linked to the mainland, some directly, some indirectly and island-hopping is great experience, not to be missed.

Due to being a gateway to the islands, the Greek mainland is well connected to Italy across the Adriatic Sea too.
About Kefalonia:
Kefalonia is the largest Greek island in the Ionian Sea, sitting just off the mainland's west coast.

Thanks to its sheer size, quiet beaches can be found all year round, which are also some of the most photogenic stretches of sand in Greece. It is, therefore, a popular holiday destination for couples and families, with plenty of hilltop villas overlooking the vividly blue sea. Yachters and sailors usually flock to the beautiful port town of Fiscardo, unique in how it remained virtually intact after the 1953 earthquake.

Kefalonia is also known for its quaint seaside villages, medieval castles, charming chapels and magnificent coastal caves. And, it was where the Hollywood film, 'Captain Corelli's Mandolin', was filmed, all offering days' worth of sights and attractions.

Given Kefalonia's appeal, it boasts an impressive ferry network with a couple of excellent ports along the east coast. You can either hop one of the many domestic routes from the mainland and nearby islands or sail overnight from Italy.