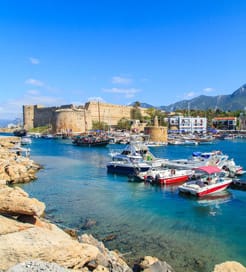 Compare ferries from Cyprus to Turkey
There are 3 ferry routes operating between Cyprus and Turkey offering you combined total of 20 sailings per week. Akgunler Denizcilik operates 3 routes, Kyrenia to Tasucu runs 10 times per week, Kyrenia to Mersin about 2 times weekly & Kyrenia to Alanya about 8 times weekly.

As the frequency and duration of crossings on some routes varies we would advise that you do a live search for crossings from Cyprus to Turkey to get the most up to date information.
Ferries from Cyprus to Turkey
About Turkey:
Turkey is on the Mediterranean in Western Asia, with a small section in Southeastern Europe, with the Mediterranean Sea on the Southwest, the Aegean Sea on the West and the Black Sea on the North.

As the cradle of cultures and civilisations connecting Europe and Asia, Turkey is well known to have accumulated a large cultural heritage of historic sites and archaeological wonders. However, apart from the historical relics, there's much more to be admired, from its soaring mountains and fertile valleys, to its sleepy villages and white sand beaches, all as part of the Turkish legacy.