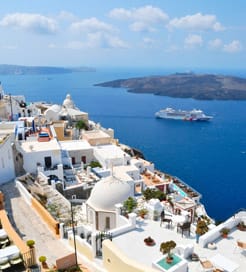 Compare ferries from Cyclades Islands to Samos
There is no shortage of options to choose from when it comes to selecting a ferry from Cyclades Islands to Samos. There are 2 ferry companies with a combined offering of 17 ferry routes connecting Syros to Chios, Agios Kirikos, Fournoi, Vathi, Evdilos, Limnos (Myrina) & Mytilene, Mykonos to Chios, Evdilos, Agios Kirikos, Fournoi, Vathi, Mytilene & Limnos (Myrina), Tinos to Evdilos & Vathi & Andros to Evdilos.

The fastest route between Cyclades Islands and Samos is Evdilos with a crossing duration of around 2 hour 5 minute. With so many routes on offer we make it simple by comparing all similar routes in one search so you can quickly find what you are looking for.
Cyclades Islands Samos Ferry Map
Ferries from Cyclades Islands to Samos
About Cyclades Islands:
The Cyclades Islands are a Greek archipelago in the Aegean Sea, southeast of the mainland.

Whether you're looking for an action-packed adventure, romantic retreat, or blissful getaway, the Cyclades have it all. Also, not only are they stunningly beautiful, they deliver on the cultural front too, boasting flourishing food scenes and a rich history.

You're never short of fascinating things to see either. Delos is the legendary birthplace of Greek deities Apollo and Artemis and claims many archaeological sites while the world-renowned beaches of Mykonos are the perfect places to unwind after a day of adventure.

When it comes to exploring Greece and her islands, travelling by ferry is a quick and convenient way to get around. From the Cyclades, there is a vast network of ferry routes available to the surrounding Greek islands and the mainland, as well as numerous crossings between the Cyclades group itself.
About Samos:
The Aegean Islands are a group of islands in the Aegean Sea, most of which belong to Greece with the remainder belonging to Turkey.

Located between the south and east side of the Greek mainland and to the west of Turkey, the Aegean Islands consist of seven groups, namely the north eastern Aegean Islands, Sporades, Euboea, Argosaronic Islands, Cyclades, Dodecanese and Crete.

Islands in the Aegean Sea feature crystal blue waters, hot springs, fortress villages, rich history, delicious seafood and some of the most beautiful beaches in Greece. The Aegean Islands will no doubt offer those who visit the region a memorable and authentic experience.

Like most island groups, travelling by ferry is the most popular and in many cases the only way to get in and to travel around and the region is served by numerous ferry companies connecting the vast number of ports.